"!Fund of the ones who care" and its new goal – to help children of Heroes
"!Fund of the ones who care" can't leave aside from the events in Ukraine. We have partially fulfilled our previous goal and collected amount for almost 500 first aid kits for Ukrainian soldiers fighting in Eastern Ukraine. More urgent needs are needed families and children of fighting soldiers need your help. "Fund of one who care" set a new goal to collect funds to create a recreation camp in the mountain for 100 children of Ukrainian soldiers.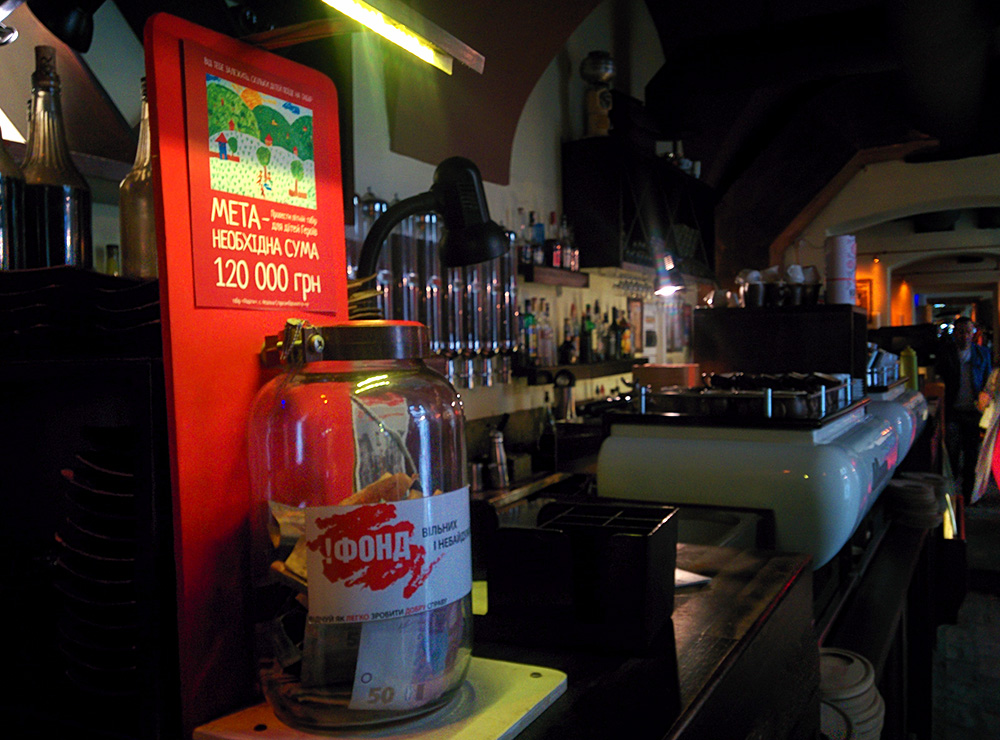 A summer recreation camp for children of Ukrainian Heroes (children of fathers who fought and died in the Anti-Terrorist Operation in the Eastern Ukraine) has started in Lviv region. Some children of the soldiers and children of "Heavenly Hundred" (from the people killed during Euromaidan events of fall and winter of 2013–2014) have already arrived there. It's a united project of two civil organizations - "Rehabilitation Adaptation Centre" and "Help for Children of Heroes". Every week new children arrives to the camp "Radity" (Eng. – "enjoy"), located in the cozy area in the mountains, in the village that is closely connected with Ukrainian history. Psychotherapists, artists and other volunteers will work with them. Everyone who cares can join and help children to rest in the mountains. "!Fund of the ones who care" is announcing a new goal – to collect 120 thousand UAH for a break in the camp "Radity" for 100 children of Heroes.
The camp's aim is health care of children,says one of the camp organizing member, a psychotherapist Mykola Vynnytskyy.
"Informative space and children's families are overfilled with a topic about war and fight. They constantly feel pressure, always worry. In the camp children must rehabilitate and concentrate on children issues - happiness and joy. That's why, the camp has the title "Radity" (Eng. – "enjoy")," explains Mykola Vynnytskyy. "We have created a team of professional psychotherapists who will involve children to interact in all spheres. It won't be just communication but physical exercises, too (creeping, rope walking, etc.) Art-therapy, different master classes and team-building will be held in the camp. We will play different musical instruments, teach children how to take photos, look at the stars with the telescope and see microorganism cells through a microscope. We will read fairy-tales with educational content near a bond fire every evening, etc."
The camp's location: the village of Nedilna, Starosambirskyy region, Lviv district. The Ukrainian Insurgent Army was born there. Nedilna village, a symbol for that Army, having a code title "Kyiv", i.e. the central kryjivka (a hiding place). The whole day will be dedicated to the soldiers and patriotism. We will hike 6 km into the mountains, commemorate soldiers on their graves, located high up in the mountains with a fantastic view," says the organizing members.
Two children will sleep per tent. If the weather is very bad, they will stay in the building. Parents can be volunteers if they want, help around the camp preparing food, for example.
"We will use methods that will help a child naturally to deal with traumatic and frustratedexperience. We will help them to get positive emotions from communication. After the camp children can continue classes in psychological interaction and art in Lviv", added Mykola Vynnytskyy.
Children can speak with their parents via Internet and Skype. It's very important for the family as parents can see their dearest smiling and happy.
Conditions: children can visit the camp till the end of the summer and may be in September (weather permitting). The age of participants is 7-14. Those who would like to join the camp "Radity" please phone 0968571 456 - Mykola Vynnytskyy, or write e-mail at mykola.vynnytskyy@gmail.com.
Why do we need your help? The camp "Radity" is organized on voluntary basis by artists, psychologists and other people who are eager to help. Accordingly, all expenses are financed by volunteers. A week of stay in the camp per one child is 1200 UAH: daily expenses, food and drinks, master classes as well as memorablepresents that will remind them a nice holiday, i.e. jaw harps made by Hutsul masters, wooden spoons, bags with aromatic herbs (children will gather and dry themselves) as well as memory sticks with education cartoons, photos and videos from the camp.
How to help?
Places where to donate money
You can donate money at places of collecting money arranged by "!Fund of the ones who care". They are located in all !FEST restaurants (the list) as well as in convenience stores chain "Two steps away from the house", the bakery "Bratvanka", souvenirs shops "Lviv Souvenirs", "Dido" shops of organic local food. All contacts and addresses are at our website: www.fest.lviv.ua.
Payment account:
EDRPOU Code: 38738541
Bank name: RAIFFEISEN BANK AVAL
Payment account: 26004405654
Bank code: 325570
Payment details: Charity donation.
Bofons (reward points)
You can join the Fund and donate bofons (reward points) by calling LOKAL hotline 0 800 501 494 or in UAH.
Find more information about the camp in Facebook (you can see photos and videos from the camp).