The Man who Keeps Masonic Secrets
He will lead you into a secret world from his tiny flat in the downtown of Lviv. His mission is emotions of people. He is a concept person at "The Most Expensive Galician Restaurant."
Mr. Petro – a physicist that knows Italian and Turkish and many overwhelming stories. At 50 he decided to become an actor but, in fact, he keeps secrets. Entering his small flat on Rynok Square you will be lead into a place of Masonic symbols and traditions that exists like a parallel universe in. Drinking tea Mr. Petro told us in his kitchen whether this is a real world and how to live at the breaking point as well as about physics, a professional actor and Masonic secrets.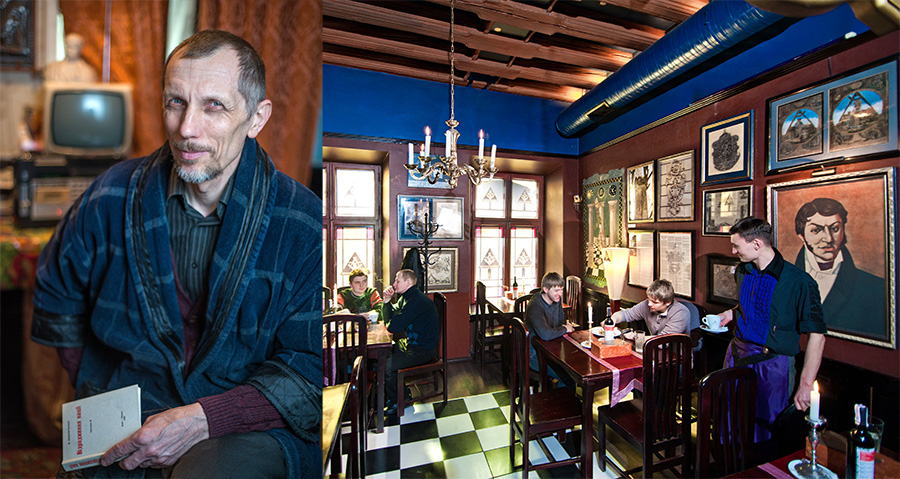 About physics and a professional actor
I am a physicist. Everyoneis amazedhow I work here. That would be logically if I were a humanitarian. As for any job I need some basic background and knowledge. And of course I need creativity.
I am often asked if I am a professional actor. I say: "No, it's just a state of mind."Although I may already consider myself an actor! I remember when I was young, in the first form, I played a role of a Wolf in the performance "The Red Hat". Perhaps, it's genetically because my sister, who also graduated from the Polytechnic University, is a singer now.
When you are acting – you are not you. You are the character you are playing. I wouldn't divide life from work. At least, I don't. That's why, you should do what you enjoy.
Many guests visit me every day. I quickly get in touch with them. I always try to see in what mood a guest is. And I know how to talk with them. Nothing passes without leaving a trace. Each second is precious. Thus, I always tell them: "Appreciate the fact that we've met. It's not that simple. You should perceive something pleasant."
Icannottotallyleaveasidephysicsbecausethelifedoesn't exist without a profession and a job. I am trying to develop myself in physics, follow the news. I can advise someone who is writing a scientific paper.
I've already worked for almost 5 years here. I sometimes spoke with guests for half an hour or more. And I always remember such meetings. Having investigated the physics of metals, I constantly communicated with a narrow circle of people. And here – I constantly get acquainted with new guests. A woman from Canada visited the restaurant once. She was here before and came back to say thank you for a nice evening. It means a lot to me!
About people and communication
Communication with people is very precious. Because it's more than food!
Routine days are tiresome. Full of thoughts and problems, we come here, ring the doorbell, and I, a man in a dressing gown, open the door.It's a kind of a stress, too, but in a good meaning :).
Not all guests are ready to see my tiny kitchen and me when they visit "The Most Expensive Galician Restaurant." My task is emotions of people.
I am frequently asked if I live here. I say: "Yes" and invite them to fry potatoes on the stove :)We can fry eggs, make tea together. Someonewears slippers not to leave dirt in the room. They forget that they come into the restaurant for a few minutes but when they enter they get more pleasant emotions!
I don't meet and speak with people according to the standard. It's always on the spot. The dialogue is not always long. Sometimes you can touch person during some seconds, open her and create a good mood before tasty dinner or lunch.
I am often asked if I feel sad here. No.I count each second! I learn languages and how many books I've read here!
I think that everything is determined in life and has its reasons. When I was learning foreign languages in the university, I didn't quite realize why I am doing it. And nowadays I see that foreigners are happy and surprised that I can greet them in their language far from their home! I can speak Polish, English, German and Italian. I know also Turkish a bit because we have many tourists from Turkey.
Ministers, politicians, other famous people often visit us. We can learn a lot from people. A person is the whole world!
About Masons
I've been always interestedand read a lot aboutMasons. And now I work here! Although, some guests know about them a lot. More than I do. But such people rarely speak much :).
Iamaphilosopherwhoconstantlydoubts, not a religious person :).Masonry admits the creator, too, and its logo is to create a new world. I like it. Am I a Mason? I can't say anything about it :)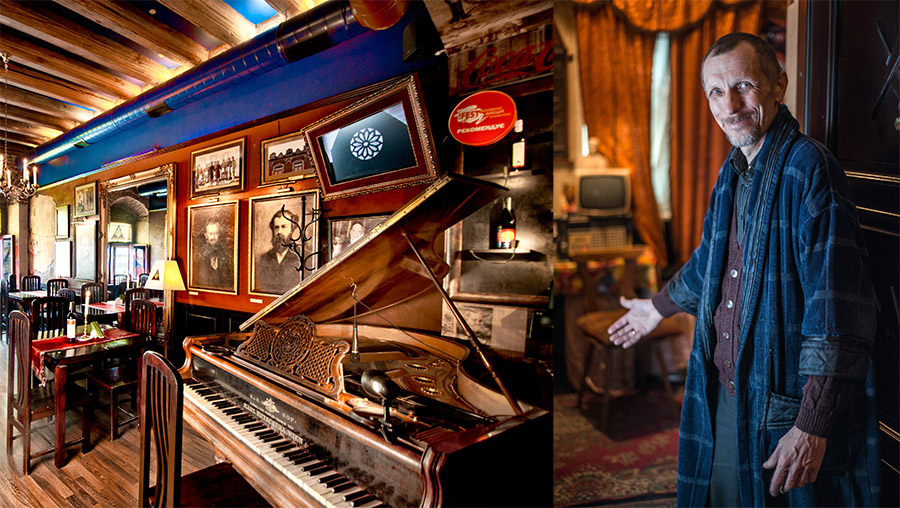 About dreams and emotions
What do I want from the life? To know the world more. To work and be worthy. My younger daughter is very fond of my job. I guess I've wanted it since my birth but I had other life tasks earlier. That'swhyIworkhere!
I didn't have any conflicts with my guests.
And, as a rule, try to treat others as you would want them to treat you.
And I do love my guests!
The Most Expensive Galician Restaurant — the restaurant in the downtown of Lviv located at 14 Rynok Square. We are on Facebook.