PRAVDA-orchestra: We Will Play, Even If The Light Is Off!
A restaurant orchestra – Yes; and we invite you to meet PRAVDA-orchestra.
Beer Theatre "Pravda", opened in December 2014, and is already famous not only for its tasty crafted manufactured beer but also for its orchestra which every restaurant's customers acclaim to fame!
Roman Vovk, the leader of PRAVDA-orchestra is telling us how the unusual orchestra was created and how now, it amazes PRAVDA's guests.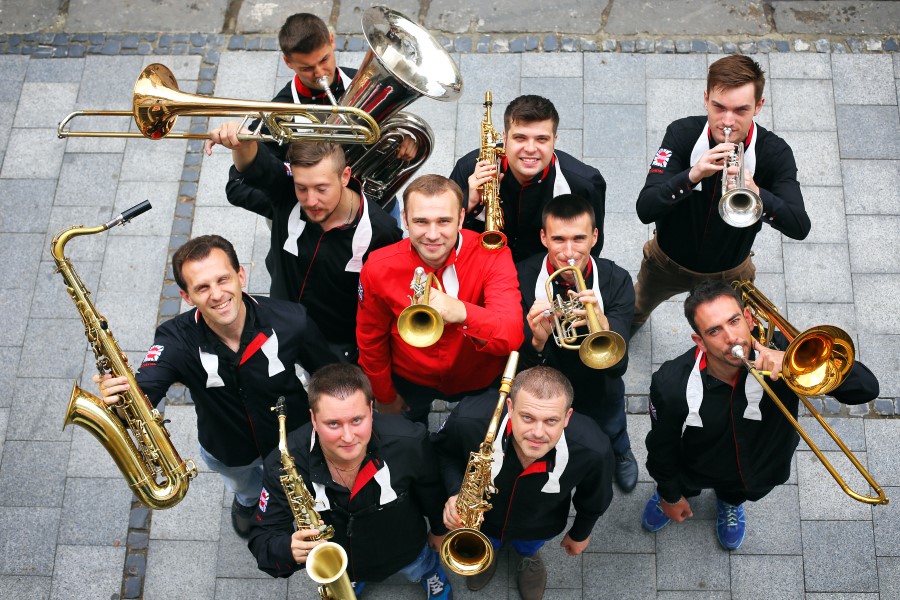 How was PRAVDA-orchestra formed?
"Live music" in restaurants is usually associated with guitar and piano. We've decided to make a true restaurant orchestra! Firstly, we modified some pieces of music and played in "Lviv Coffee Mining Manufacture" in November and later we performed in "Pravda".
We specially choose musical compositions to play. We don't play any kind of music. It should be nice and right music. It's ACDC, Metallica, Frank Sinatra, Adele, Maroon 5, popular film soundtracks. We also perform Ukrainian music: "Okean Elzy", "Braty Hadyukiny", "Skryabin"... After Skryabin main leader's death his songs are of great current interest. He is from Lviv region! We play his "Lyudy yak Korabli" (Eng. – People like Ships), "Stari Photographii"(Eng. – Old Photographs). Orchestration of his songs is very easy. We perform popular songs that people love, for example, "Chervona Ruta" (Eng. – Red Rue) and guests sing with us!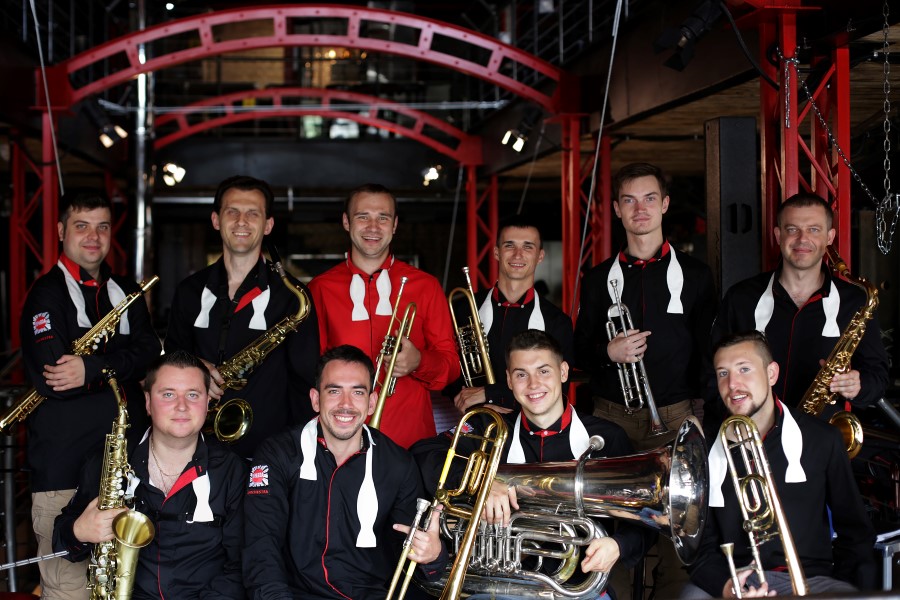 I have been writing music for the orchestra for 6 years, and I am still doing it in PRAVDA-orchestra, composing several songs every month.
You are the Orchestra Manager, write music and play there!
I am a trumpet player. I graduated from Lyudkevych Lviv State Musical School and Lysenko Musical Academy. I worked in the Western Military Orchestra, later in "ІNSO-Lviv", the Academic Youth Symphonic Orchestra. And since December in PRAVDA-orchestra.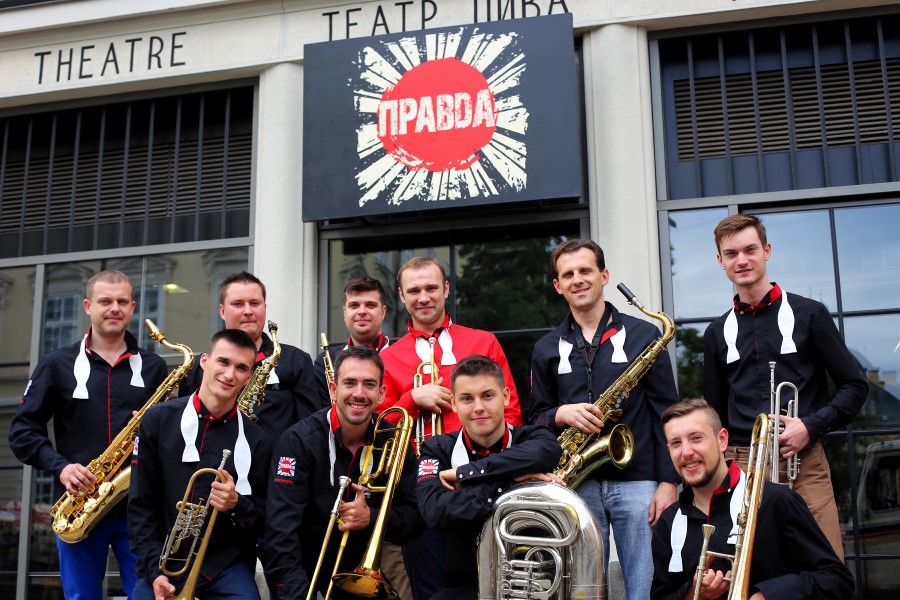 How many people play in the orchestra?
At first, we were 10 in the group. We played all 20 works every night. But physically it was very difficult because of wind instruments and we had only 5 days-off per month (PRAVDA-orchestra performs every day except Monday at 32 Rynok Square.) So we decided to create a second group. We are 20 now! The first group plays on Tuesday - Thursday and plays two sets of 45 minutes each (20:00 – 22:00). The second one performs three sets on Friday – Sunday from 20:00 till 23:00.
But we can change: for instance, each trumpet player knows parts of the first, the second and the third trumpet, so he can interchange anytime. It's very good to switch members between two groups: The weaker members are motivated to play better; it's very positive! One gig consists of three trumpets, two trombones, tuba, tenor saxophone, alto saxophone, clarinet (or soprano saxophone) and a drum set. There is no such group in Lviv. At least, cover versions are played in Lviv by such group for the first time! We don't have any competitor :)
And how do you find players for your orchestra?
I've known a lot of players since my studying times and some of them played with me during concerts. Participants aren't only from Ukraine. For example, our trombone player Eskender is from Crimea. There are also students from Lviv Musical Conservatoire. They improve their professional level as our main goal is to work to our best!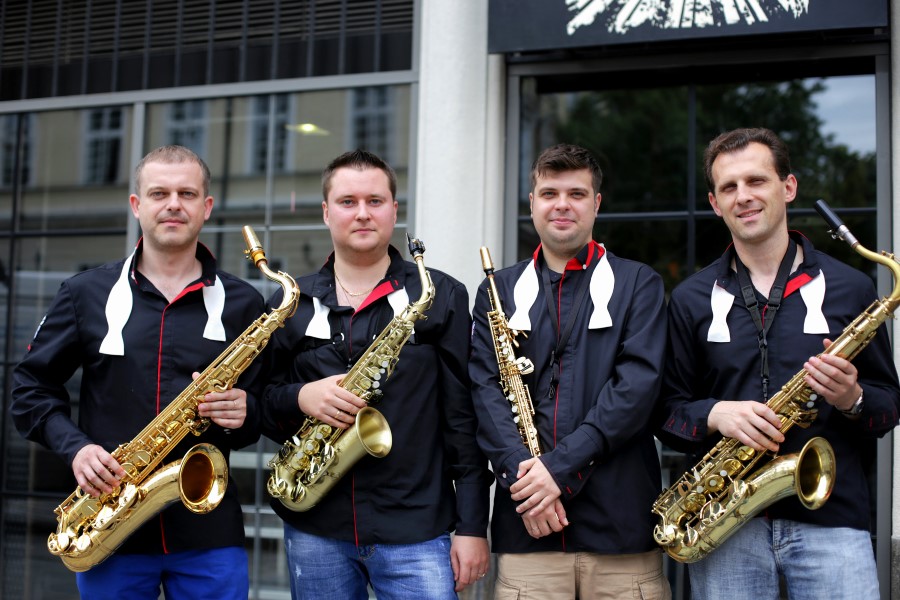 How often do you play new songs? Is it not difficult for new people to play together?
I have rehearsals for each group when I have 4-5 new opuses. Some orchestral works are well-known and easy to learn while others need some time, for example, "Highway to Hell" has got a complicated part for trumpets.
I write orchestration for all compositions because other instruments are used in original. I need one day, and sometimes three or four. We have more than 50 pieces of music in our repertoire today.
We don't just play the songs. We accord music of one instruments to another. For example, rock music is guitars and we don't have the guitar in our orchestra. Thus, I need to change the guitar part into the trombone with the trumpet. Musical parts of the drummer aren't changed at all.
People visit the restaurant to drink beer and you start playing, thus changing their evening. Is it interesting to watch their emotions?
Our performances have recently turned into a dancing area. The orchestra is playing and guests are dancing! It encourages us and we take their energy. The audience is rarely passive. People begin to dance during the second-third set. Of course, they react to our mood.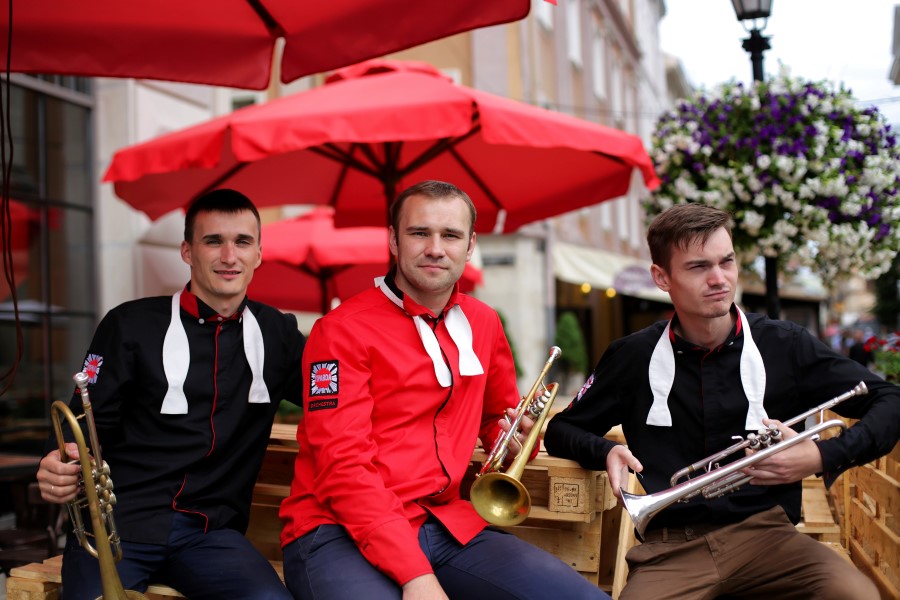 We can perform 30 musical airs per evening as well as play an "encore". Even 5 times! Sometimes the players take off the uniform but the audience is clapping and they have to return on the stage. The musicians play the wind instruments and get tired very quickly. One more "encore" performance means that it will be difficult to work tomorrow!
Guests leave messages for us. Once a lady declared her love to our charismatic drummer Roman and asked for a telephone number!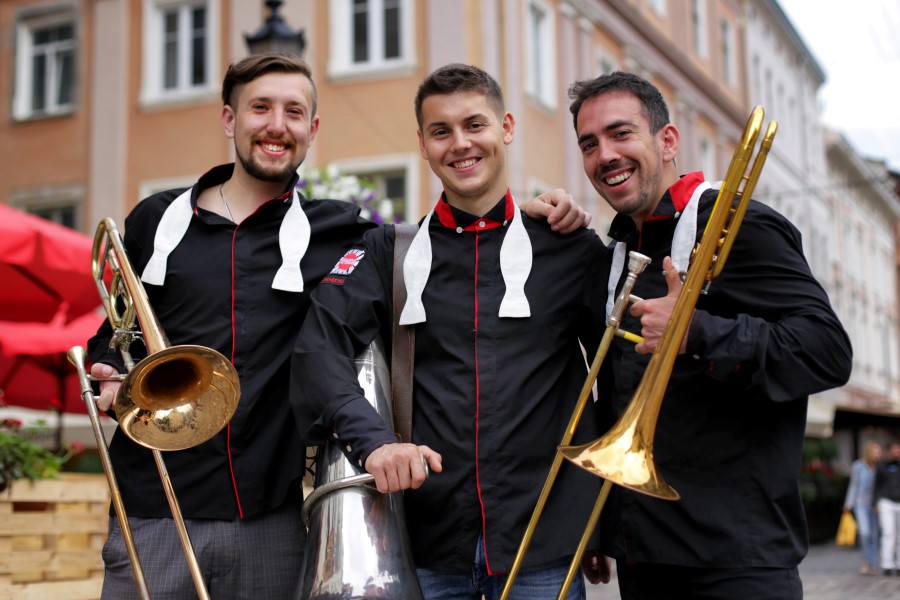 It's really pleasant when there are "Pravda" patrons. They say, "It's already our place. We come here to drink beer and listen to the orchestra every week!"
What do people ask to play the most?
It's occasionally "Zeleni Ochi" (Eng. – Green Eyes) by "Okean Elzy" as well as very often Skryabin, especially his song about the mother and Bregovic songs...
We often play "impromptu". Each player can perform their own improvisation part in the song "Vona" (Eng. – She) by Chubai or "La Bamba" by Los Lobos band. It's very easy to tell who of the guests know the song because they hear its improvisation!
Restaurant orchestra is an old tradition in Lviv that was being forgotten…
Yes, "live music" has a different meaning in some "eateries" now. A computer and a microphone –that's all. Our task was to create the true orchestra as the title of "Pravda" restaurant means "The Truth" in English. Dishes, beer and music are true here. And if the light is switched off in the restaurant where the singer works with a computer – it's the end. If the light is off in "Pravda", the orchestra continues to play!
As a rule, such groups as we are don't perform cover versions. When I firstly had a task to write a cover version for "Okean Elzy", I didn't know how to start. When I succeeded with one composition, I understood that it's great!
How do you see the development of PRAVDA-orchestra?
My dream is to go on tour performances with the orchestra. Tour performances gather players together. We go by bus, play, communicate and rest. We get acquainted with new musicians and listen to new music. It's an additional experience and new ideas. It's the development of all musicians. Such tours inspire players very much.
First of all, we would like to visit Germany as it's the country of beer and musical festivals. People like wind orchestras there. Beer festivals aren't without an orchestra in Germany. The orchestra goes on foot around the city and invites everyone for the beer festival. Later, the concert and beer drinking take place.
The orchestra is a part of Beer Theatre "Pravda". Lviv Opera House has its own orchestra. And we have got many ideas for development!
Beer Theatre "Pravda" was open in Lviv on 32 Rynok Square in December 2014. Eleven varieties of draft beer and eight types of bottled beer were brewed during the past 6 months. Please read about interesting facts about "Pravda" here.