Stories of Success. The Chef at UCU Canteen
The second story of success is about the canteen chef at the Ukrainian Catholic University. Kyrylo Karpyshyn has told us how difficult it is to run a canteen of a high profile establishment in Ukraine; where Ministers, Deputies and famous economists have lunch. He has also shared with us how to find the job of your life and whether you need education for it.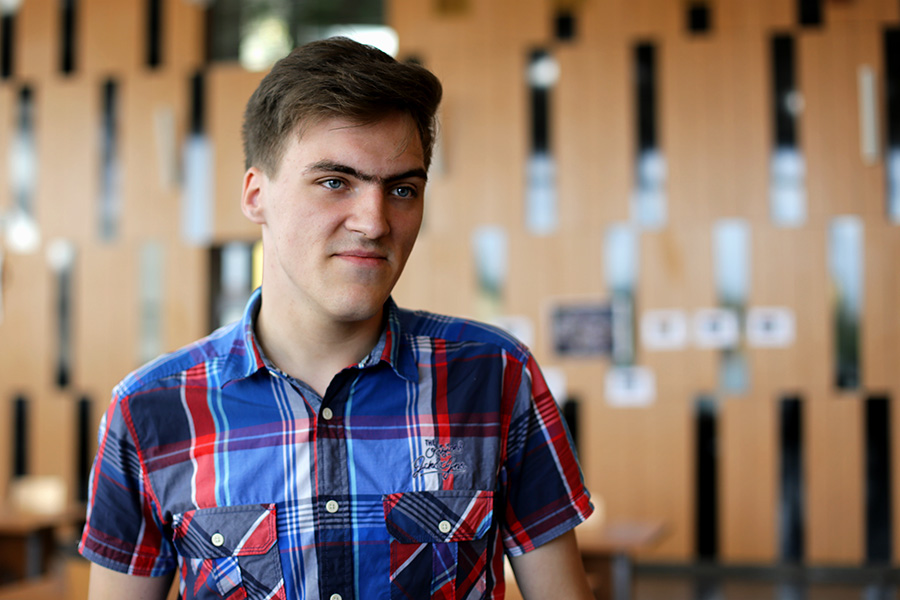 We continue to speak about "Stories of Success" and people who have started their career and work in !FEST Holding of Emotions, their achievements and advices how to become successful.
Kyrylo, tell us please, how you began to work in !FEST Holding of Emotions.
In spring 2011 I graduated from Restaurant Service and Tourism College in Lviv. It was just before Euro-2012 and I imagined that working in a hotel restaurant would be a good job for me. But I was afraid that the College will suggest me something unattractive, and that's why I decided to look for a job myself.I sent my CV and was invited for an interview. Soon after I became a cook at "Masoch-café", in a year – the chef. I was 19 then. It was the time when the Company was changing very much; we were taught a lot. I was a bit scared at the beginning as it's a great responsibility. I worked at night in order to learn (smiling). It was an incredible school, especially due to Euro-2012. We were not taught to be a real chef or a manager. And here we had to do it!
Much has been changed since 2012: after "Masoch-café" I helped to launch "Diana at Rynok Square" open air café, soon after I became a catering chef, then – a chef at UCU.
It was quite unusual for me because "Masoch" is a famous restaurant, perhaps, not for its dishes but the concept and bar drinks. It's the world name! And here at UCU we were opening the canteen, namely "UCU" canteen (2a Kozelnytska Str.). At first it seemed to me that having the job at the canteen after the restaurant was not so cool. I doubted for a long time. In fact, it became a new level of my career development.
There is a very good technical base at UCU. It's one of the best higher establishments in Ukraine! Totally there were 5 people including me in "Masoch-café" and here at 22 I manage the team of 50. Everything is constantly changing; we don't sit still but move on. Now I am in charge of all !FEST canteens development as well as a catering chef. For the time being, I am working on my management skills and I like it very much.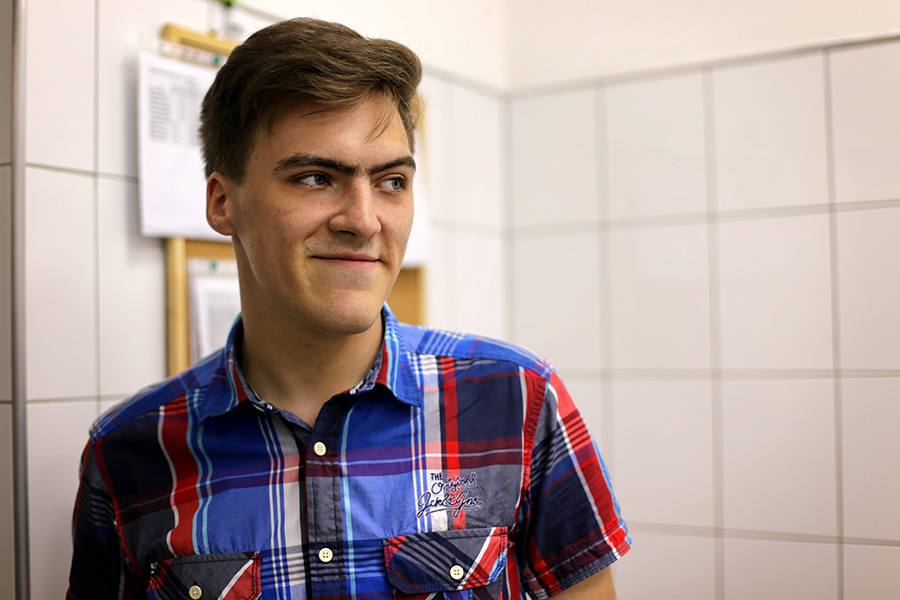 And what about cooking?
I cook, too. Moreover, UCU canteen has become a very popular place for the last two years! A lot of guests come to eat out here, from time to time VIP. In general, we can serve up to 1000 people per day. It's actually a big flow of people for a canteen. Sometimes I recognize my patrons in the city; we greet with each other. Although, I was afraid that only students will be our guests (laughing).
Everything goes like clockwork in the canteen. But when I miss cooking, I have catering where I can always create something new. It's very important to me not to have a routine work. And catering is just a great chance for creativity! Always new projects, new restaurants, always busy. For instance, we are opening a new office canteen at Staroznesenska Str. in August.
What's more difficult – the canteen or catering?
Of course, catering. You are occasionally on edges because you don't know the conditions where you are going to cook. For example, a simple issue if there is a kitchen! We served famous people, VIP at catering…And when you see the result of managers and cooks, you are proud of your work! I enjoy being a manager. At the same time, I have many world and Ukrainian chef idols. I am constantly developing in this way, too. I try to find balance.
How much difficult is it to manage the team of 50 people? First of all, does a successful team have professionals or nice relationships between people?
I still need to find an answer to this question. I had to be involved in all personal problems of my colleagues in "Masoch" as it's a small café. In the canteen I try to speak all the time and remember about their important details.
To my mind, as I am a chef I need to hire people who I feel comfortable to work with. We have the team in UCU that understands me, sometimes without words; we are open and can tell each other everything. There are many people who didn't finish any specialized culinary schools to become cooks but wanted to be one, one day. Once I had an interview with Katya from Donetsk: red long nails, good marketing experience. But she dreamt of being a cook. Moreover, it's so in trend now, all these TV shows (smiling). We argued that she would work for a month in the canteen, not more because we know that it's not an easy job. But it didn't happen! She is a sous-chef now.
In fact, there is no a universal educational book to become a cook. You must find strong points in people and managed to use them successfully.
Please also read: Stories of Success. How to Run a Restaurant when 25 years old?
So, a good cook is talent and a willpower?
Yes, I know a lot of good cooks who don't have specialized education. But they wanted to cook. On the other hand, people with education can be average specialists…
It's very important to motivate people; they must have more except work, salary and the team. I try to hire a young staff but we have a respectable Mrs. Nadya, the economist, who easily joined the team. No one can cook better soups than she can!
You must love your job, otherwise no way. And you can always learn: there are many very good courses and master classes to attend or you can simply learn from your colleagues. It works, if you have a desire!
Your example shows that one can continuously learn, change activities and develop in !FEST…
Yes, this Company differs from another ones (laughing). Our approaches, our concepts. Many are surprised at first. But those who are left to work here have a great opportunity to develop! Ideas of !FEST founders anticipate the flow of people, therefore we are always looking for active people who are eager to develop.
One more thing that is different from another restaurants and canteens in Lviv is hiringdisabled people. Tell us about this experience.
Hiring disabled people is one of the conditions in our work. We do it collaboration with "Emaus", the spiritual support centre of disabled people. I didn't know if I managed to deal with them and many employees haven't had such communication experience before. Today we have two disabled girls in the kitchen and one boy – in the hall. They are incredible people! They cannot lie, aren't cunning and they work hard. What is important, they feel frankness in other people. We don't have any problems with it – they are the members of our family, without who I can't imagine my work now.
Do you have time to rest with your projects?
I had to learn to rest. Because besides work I set new tasks for myself and try to develop. My first task was to lose weight – and I did it! I lost 25 kg! (laughing) Then I learnt how to combine work, personal life and rest – and I did it, too. Now I have a dream to fly in a hot air balloon. I am going on vacations and my dream will come true!
What is your hobby?
It happened that besides my job there is nothing I can do very well. My girlfriend and I have set priorities – only I cook at home. Therefore, we joke with my friends that my hobby is my work :)