Beer Conference to Take Place on April 27th in Lviv within Craft Beer & Vinil Music Festival
Lectures, meetings, discussions about craft brewery and beer culture – all these things you'll find out at the Beer Conference on April 27th within Craft Beer & Vinyl Music Festival – a beer event #1 in Ukraine.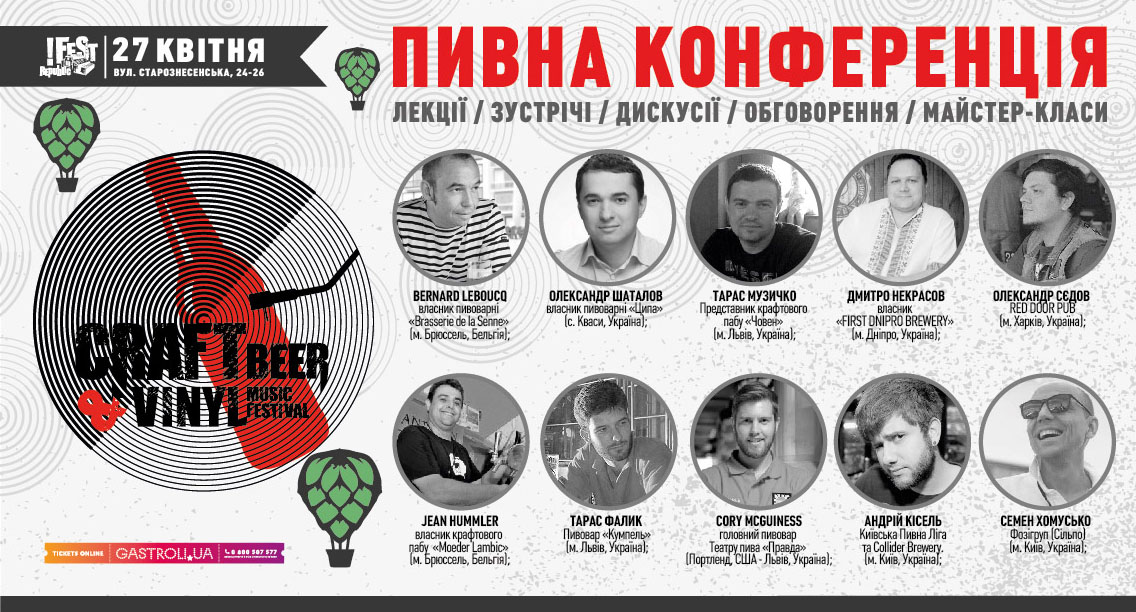 Guests will have a great opportunity to listen to various speakers, i.e. Ukrainian, American and Belgian brewers, pub owners and brewery experts.
Bernard Leboucq – "Brasserie de la Senne" brewery owner (Brussels, Belgium);
Olexander Shatalov – "Tsypa" brewery owner (Kvasy village, Ukraine);
Vasyl Mykulyn – "Varvar" brewery founder (Kyiv, Ukraine);
Dmytro Nekrasov – "First Dnipro Brewery" owner (Dnipro, Ukraine);
Taras Muzychko –"Choven" craft pub (Lviv, Ukraine);
Oleksandr Syedov – "Door Pub" craft pub (Kharkiv, Ukraine);
Andriy Kisel – Kyiv Beer League and Collider Brewery (Kyiv, Ukraine);
Jean Hummler – an owner of "Moeder Lambic" craft pub (Brussels, Belgium);
Taras Falyk – "Kumpel" brewer (Lviv, Ukraine);
Semen Khomusko – Fozzy Group (Kyiv, Ukraine);
Cory McGuiness – the head brewer at Beer Theatre "Pravda" (Portland, USA - Lviv, Ukraine);
A conference moderator will be Yuriy Zastavnyy, an idea inspirer of Beer Theatre "Pravda" (Lviv, Ukraine).
Experts will discuss the latest tendencies in beer industry, a philosophy of craft breweries and creative solutions for small breweries. Participants will also speak about new tastes and a modern pub culture. All beer fans will be able to talk to our speakers on various themes.
On April 27th an exposition of beer products suppliers and equipment manufacturers for brewing beer will start.
Guests can already buy tickets at the website gastroli.ua. The price is 200 uah, at the event day – 300 uah. The conference will be held on the territory of a previous bottling plant and nowadays a new creative area - !FESTrepublic (24-26 Staroznesenska Str.).
Please find all program details at festival page and event page in Facebook.