Bogdan Logvynenko: "We are shooting sincerity and authenticity"
"Ukraїner" project is opening Ukraine. Ukraїner team is arranging expeditions in the regions of our country and tells about unique cities, villages and people via articles, photos and videos.
We also consider Ukraine to be a wonderful country. We try to make ourselves, our city and country better every day. So, we've decided to become partners of Ukraїner project.
The team has recently returned from the seventh expedition in Podillya region. Just after arrival we spoke with Bogdan Logvynenko, the project manager, about impressions of expeditions, Podillya and working atmosphere in the team.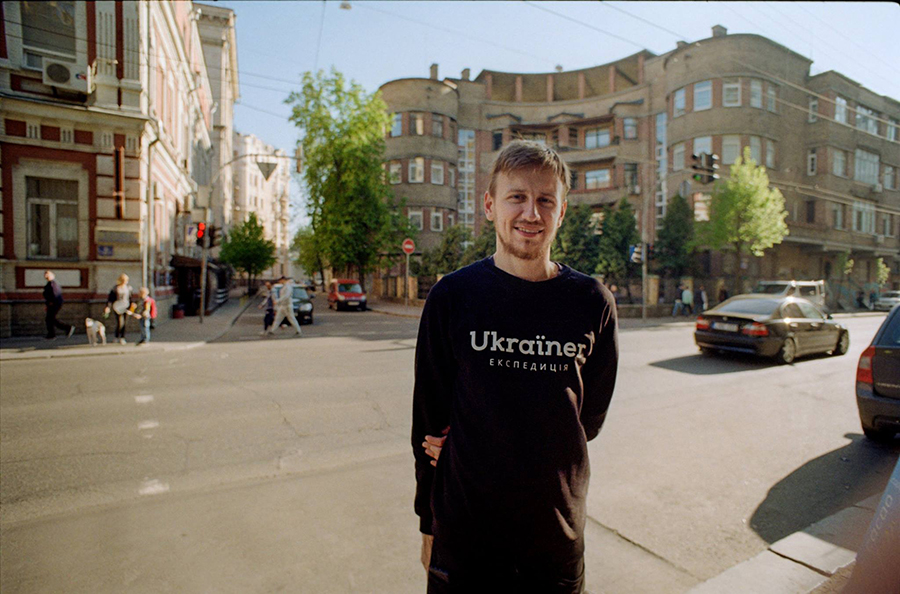 Bogdan, what peculiar features have you noticed about Podillya during your expedition?
Podillya…it's perhaps the least homogeneous from all Ukrainian regions. Totally different people live in the Western and Eastern Podillya. And if earlier they could have been united, but they have remained under rule in different countries for a long time and there "was" a border and a division across Podillya. For instance, Bessarabiya is very cosmopolitan but in due time it was under rule of Romania or fully under the USSR. The same situation is with Pryazovya or Transcarpathia. Thus, Podillya was always divided; different borders divided its territory. That's why, it varies. We are trying to overcome stereotypes and not form new ones.
How long were you in the expedition? How many kilometers did you travel?
We went 5200 km per 21 days. Can you imagine what bends and curves we were travelling through because you can go across Ukraine with such distance in kilometers.
What day from your expedition did you remember the most?
Of course, you remember what happened with you during the last days. I enjoyed most the day with Oleksiy Alyoshkin, the sculptor from the village of Bukatynka.
It was that very day when you felt that your whole expeditionteam was shocked. Just fancy a young promising man whose parents had very good jobs during the USSR in the 70s. He was married and parents of her wife were of high class, too. So, they gave up everything and moved to the village. They lived 40 years without shower and toilet: they swam and washed clothes in the river, they had a 20-metre well near the river.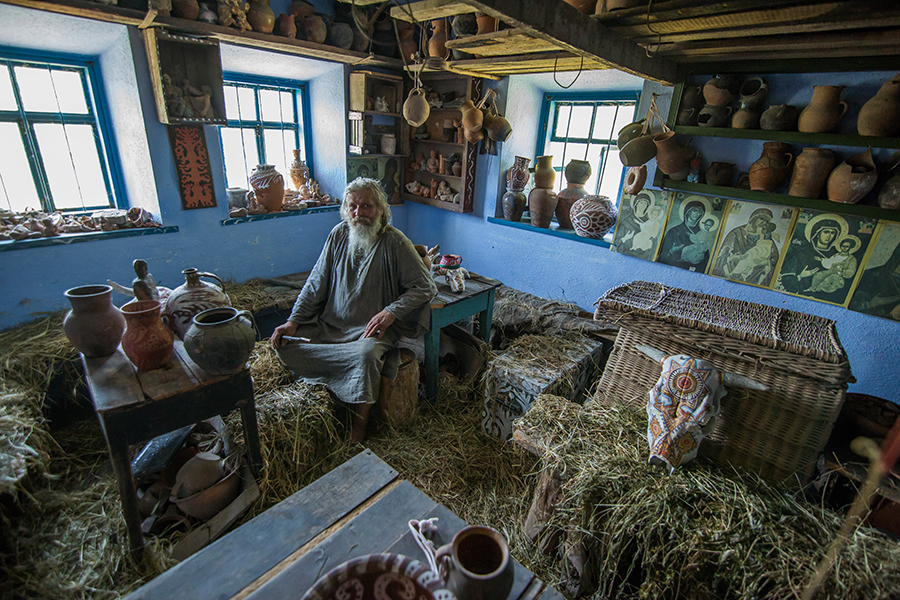 They started to collect neglected houses in the village in order to make a museum.
Oleksiy made the first in the world sculpture of John Lennon just after his death and presented it in Mohyliv-Podilskyy illegally.
He has plenty of such fantastic stories. The way of his life is admirable. Not everyone dared to make such things. Nevertheless, many people can envy such way of life full of "freedom" and "fabulousness".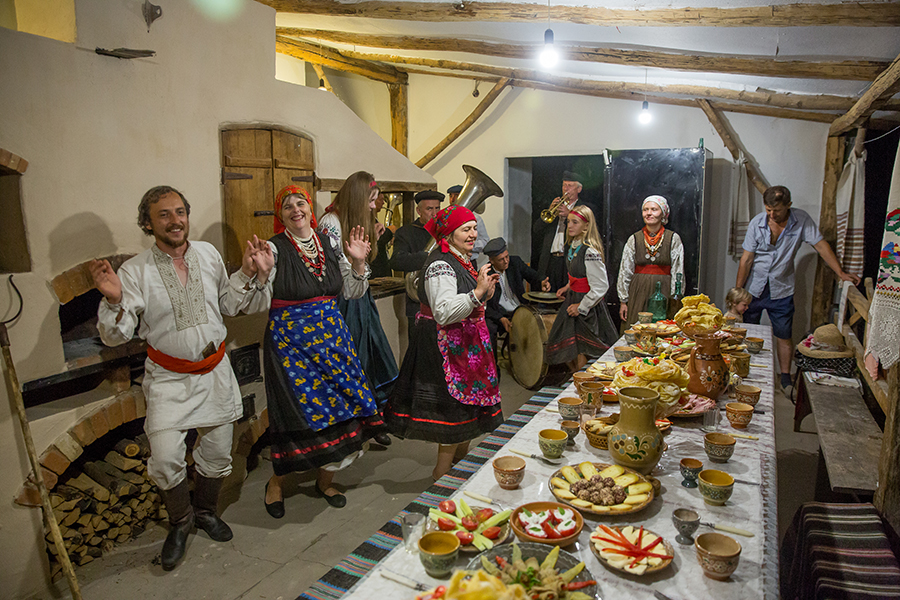 One more day that I'll remember my whole life was just after that one. We were in Shershentsi, Odesa distrist. The hospitality was so incredible as nowhere else before: locals met us with a huge banquet, a parade and a rural wind orchestra. To tell you the truth, we were utterly surprised.
We experienced such situations when several times Regional State Administrations or rural officials tried to make some show. People were forced to gather for a meeting. They didn't want to see us and they weren't happy about our arrival, they just fulfilled their duty. We are shooting only sincerity and authenticity.
It was absolutely different in Shershentsi.
People who hosted us moved to the village several years ago – Dmytro and Nadiya Skoryk, he comes from Odesa and his wife is from Poltava. They make dairy products and I've never tasted so delicious milk products in my life. I'm saying it not because they gave us so many tasty meals but it was really delicious. They have been making dairy products for 2 years and selling them in Odesa shops.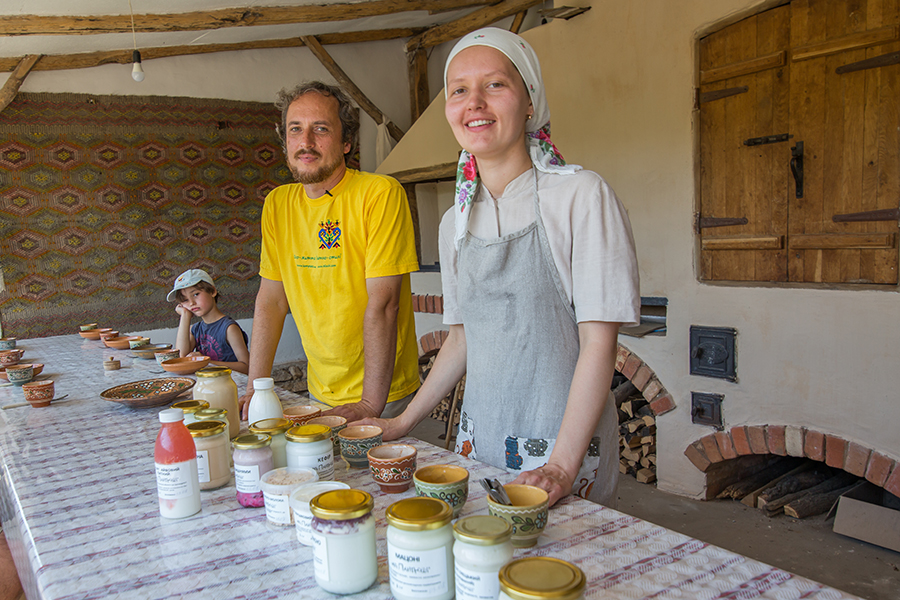 I was greatly astonished by the fact how they got prepared to our arrival. Our visit became for them a stimulus to finish their cheese factory. They opened it 2 days before our arrival. They also finished repair works in the hostel although we always discuss in advance with our heroes that the film will be screened on TV.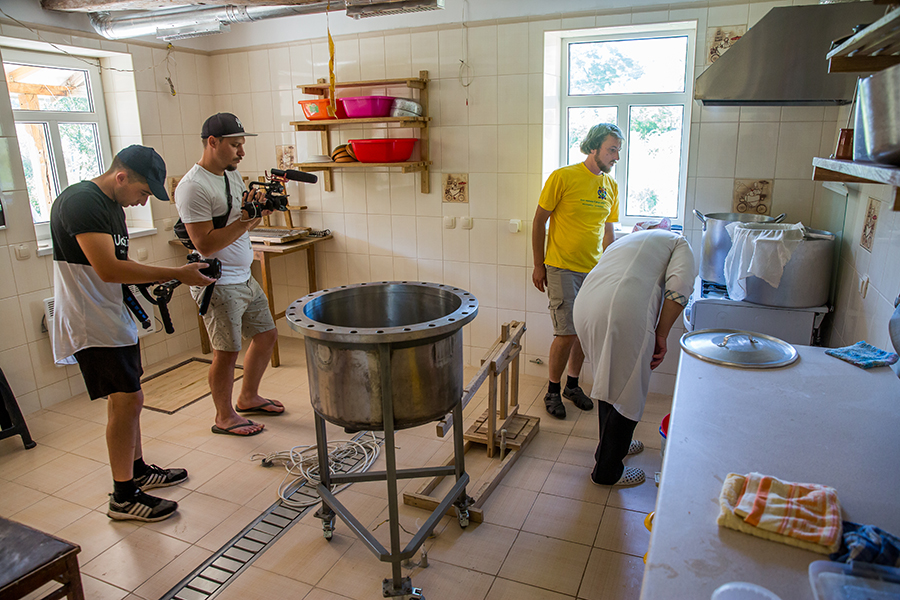 We've understood that they were getting ready much for our arrival.
Is it important?!
Truly, yes, it's important for us to realize that we are doing something necessary. It's not only we shoot a video and people can watch it, be inspired, make some initiative and start doing something. But because when we are travelling across the region, some locals understand that they aren't so perfect to host us and show us something. When we went to Poltava district, there was a girl who wrote us that she was following our project and we influenced her life though we didn't meet before. She has written that she realized she hasn't done anything yet to make a film about her. But she is hoping that we'll have one more expedition in Poltava and she'll do something great to write about her. It's inspiring!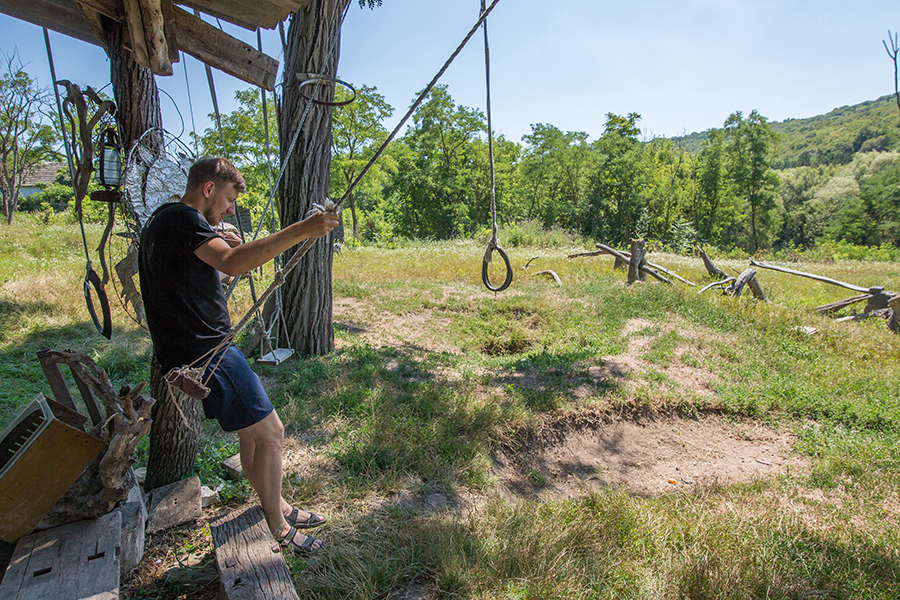 How did you get to know about couple in Shershentsi?
They found us and several people recommended them to us. We checked what they are doing and decided to arrive.
By the way, there is a problem during preparation to the expedition. There is no information in the internet about people who we plan to visit. You can't find any data about Oleksiy Alyoshkin who has been working so hard for more than 40 years. The problem is that he lives in the village and mass media doesn't go there.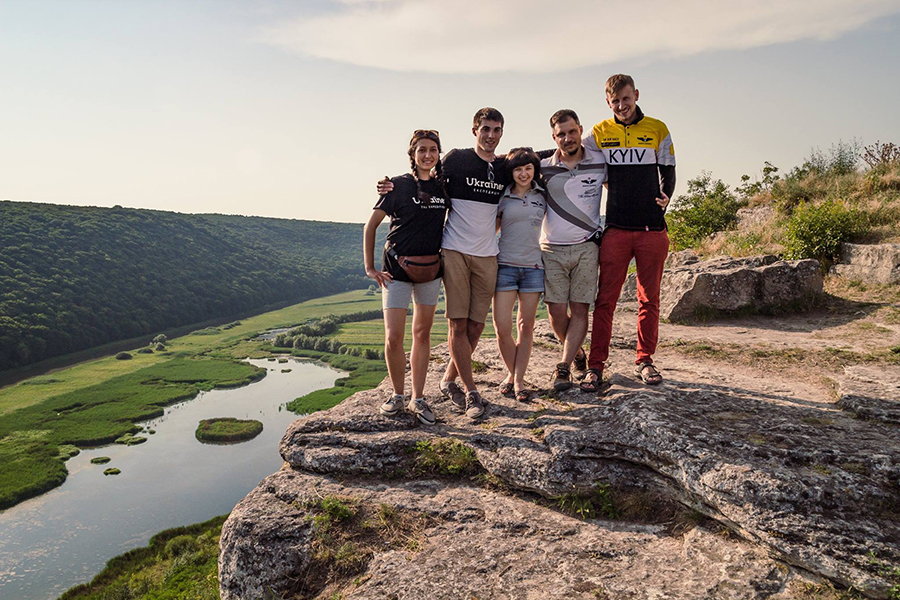 It's interesting how your team works during an expedition. Do you discuss shooting every evening? Do you dispute or argue?
We sleep a little. Sometimes we eat rarely and travel being hungry.
In fact, we discuss but not much. More discussions follow in the car when we leave the place. We don't discuss people. Sure, we may or may not like somebody. There used to be quite incomprehensible situations with people. We sometimes don't understand people or they look suspicious. Even that case in Shershentsi was rather suspicious at first. We even didn't know how to shoot this. Sitting at the table is obviously not our format.
How did you change it?
We shot a film next morning.
Back to the main topic, we are "inspired" by different stories. It may happen that we get in our car and we keep silence. Firstly, we worry. Secondly, sometimes we need silence. Actually, we get really exhausted.
Do you make discussions after an expedition?
Sometimes – yes, sometimes – not. It's often impossible to gather all team. Everyone is from different city. But we plan to have a meeting after this last expedition.
Well, don't you argue?
Generally, no but, for sure, we have micro conflicts. Everyone has his own area of responsibility. And there is a process of shooting. A photographer and operators work simultaneously. They always disturb each other. But it's naturally and you can't avoid it. The first operator is Pavlo Pashko. He and I always take part in expeditions. We are the front crew in the car. The rear crew is constantly changing and it's not that we like but it's a way of solving a problem.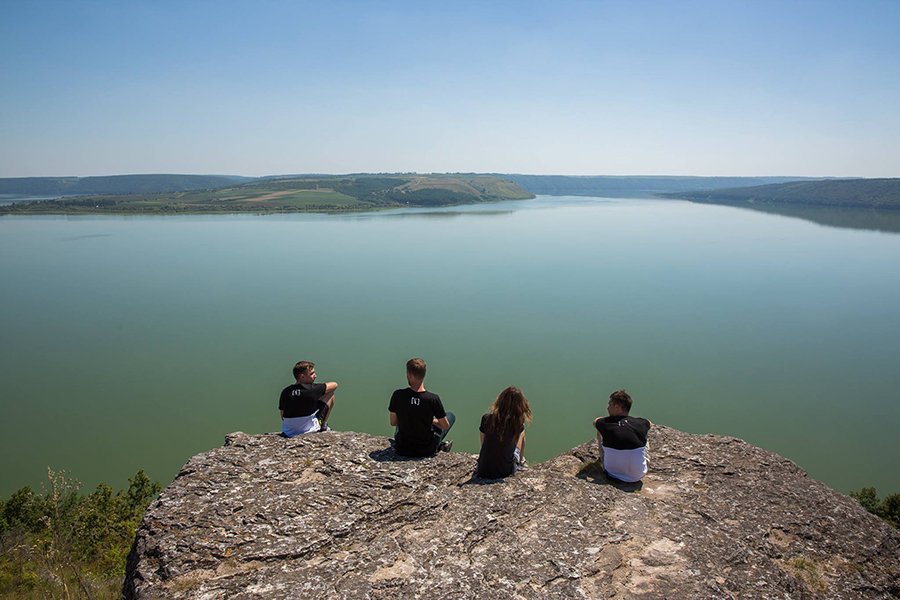 We haven't argued during all this time. Overall, we don't have time for disputes and rows. A process in a project is so difficult and top-priority that operators start understanding each other without words in some days. Shootings after shootings. There must be a tight fit and it's essential. But, of course, people change from time to time and we can't always succeed in it.
Where would you advise to go a person who has 2 days off in Podillya?
Bakota and places around Bakota. It's fantastic… Perhaps, I'm so amazed by these areas because I've never been there before. Few destinations like this are left in Ukraine as I was in all districts of Ukraine before Ukraїner.
I can sit and watch the sunset and sunrise for hours. This is ideal place to do it. You must visit this location to feel peace and quiet. And have a chance of doing nothing. It's great. Just travel to Bakota.