The top three awards were won by my pupils - Andriy Hrekh, a Chess teacher at School of open-minded kids
A Chess lesson is mandatory at School of open-minded kids. The school founders promised parents that all children will play chess till the 4th grade. So, they have chosen one of the best chess coachers - Andriy Hrekh, the International Chess Master, the Champion of Ukraine among the youth, the Winner of 5th Youth Games of Ukraine. We've spoken with him about wins, studying and chess before the class.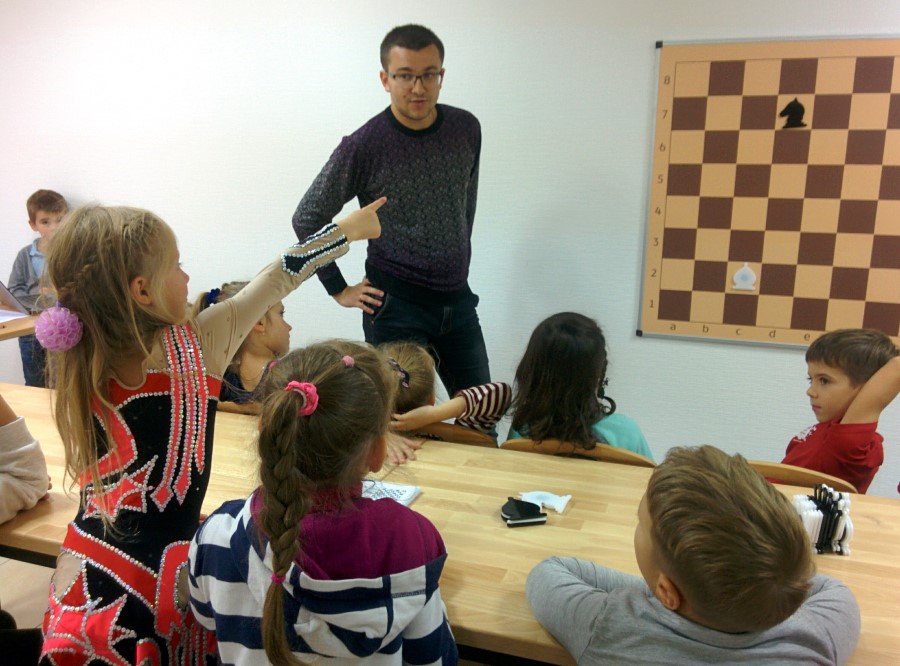 When and how did you begin to play chess?
I started to play chess at 5 in the kindergarten. My mum brought me to a chess class. I'm from Horodok, Lviv district. There was a teacher, Mykola Matviyenko, who gathered kids in the kindergarten and organized groups. This is how I got acquainted with chess for the first time. Neither my mum nor my dad played chess in my family before. I was the first.
Did you teach your parents?
My mum was learning with me. It's quite difficult to learn to play chess without chaperoning parents in such early age.
I spoke with Management of School of open-minded kids that I'll teach children to play chess but if we want something more at school, to achieve some results, then parents must support children. For the time being half of children don't have chess sets. Last time each pupil took his own chessboard for the lesson, we played and everyone was happy.
But did they know how to play?
The lesson was dedicated to the Rook, how we should start the game, what the rules the rook has. Next we'll take the Alfin and we'll play with two figures: the Rook and the Alfin. Learning is step by step, so they remember everything.
Let's talk about you. How did you continue to play chess after the kindergarten?
I was studying in a chess class. All kids after the kindergarten went to the same school and we were called "a chess class". There were 30 pupils in the class and all played chess. It happened in Horodok for the first time.
It was merely a coincidence that our class head teacher enjoyed playing chess, too. Later on some pupils dropped out from the class because we had a lot "chess" home assignment. We had to go on chess tournaments to show our skills. Then, in 1995 there were not so much chess tournaments but we went to Kyiv and Moscow.
Where did you study after school?
I graduated Ivan Franko National University, the Economic faculty. My degree is Master of Finance.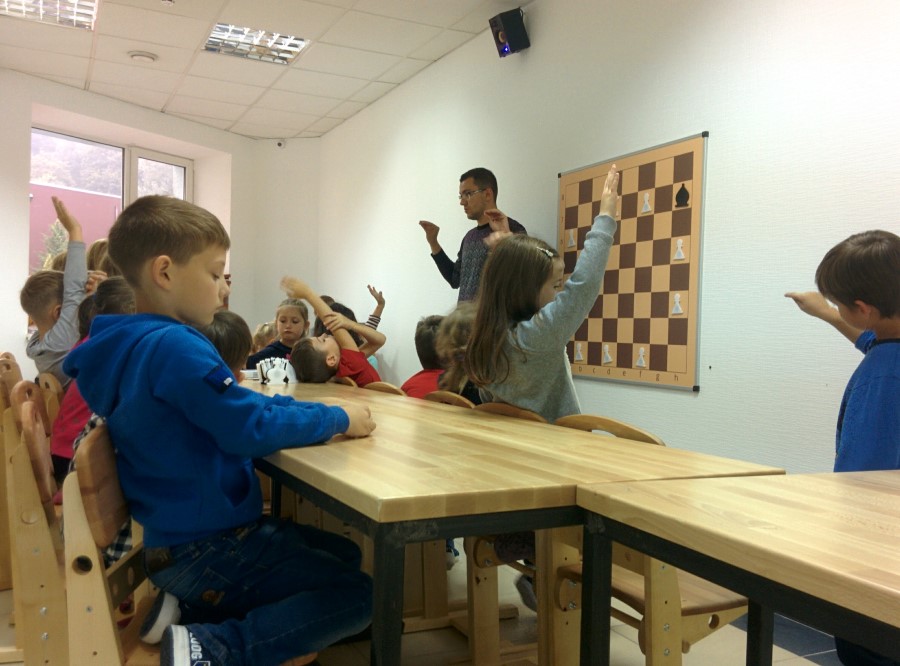 Did you give up playing chess during studying?
I've been playing chess since 5 years old until now. I am taking part in tournaments, at 14, I became a Champion of Ukraine. It was my biggest achievement. At 20, I became the International Chess Master. But after graduating the University I understood that being a chess player was difficult. You have to invest money in tournaments; it took a great time commitment so I decided to become a Chess coach. I actively began my coach career in Horodok and Lviv. I was a Chess teacher for 4 years in School #54. I still teach some pupils from this school to play chess now. Parents help and we take part in tournaments all over Ukraine. By the way, we are going to Poland tomorrow.
Can you state firmly now that playing chess formed a special thinking pattern that helped you to enter the University, the Finance department?
I entered the University easily and I didn't pay any fee for education. My favourite subject at school and University was Mathematics and Exact Sciences. Yes, it helps me in life. Chess develops strategic and not standard thinking.
How do you like working with children?
Everyone tells me that children like me and want to be with me. I've also liked them. And those who I've been teaching for 3-4 years are like my own children.
Have you brought up champions?
Yes, I have; one champion of Ukraine, a vice champion and a bronze winner of Championship of Ukraine. My pupils won three of the highest awards in Ukraine.
Can you specify how they children achieved such great results?
I can state for sure: it's very persistent work and parents' help at home. Children fanatically were devoted to chess. No one forced them to play at home. At first they did chess home assignment, and after another lessons. Children are working to get a result. I can't say at the beginning if a child is gifted or not. At school I know who I can spend more time, so that we can see a result in the end. We work according to a triangle system: a child, a coach and parents. If we have "the triangle", we'll have a success. If some part fails, we will have a problem. It's only the development of a child, his thinking that he will use in future.
Have you got many potential successful kids at school?
I can't say now for sure, I don't know parents yet. I want to get acquainted with them and ask if they are going to help children.
For the time being we have Chess lessons twice per week, 35 minutes each: I show them some technique and they remember. I have classes 3 times per week, 2 hours each to get "a result". Moreover, they regularly practice at home and do chess tasks. Parents' help is necessary when we take part in tournaments. Last year I took part in tournaments during 9 month: 5 days in Mykolayiv, 10 days in Zhytomyr, 14 days in the Czech Republic, etc.
We are planning to arrange an additional Chess group for children interested in chess. Twenty children have already enrolled. Firstly, I will speak with parents if they are going to work with their kids at home. If not, there is no sense to create such Chess group.
I think there are all conditions in School of open-minded kids and we'll find children who will represent our School at the Championship of Ukraine.
Has your mum played an important role in your chess studying?
Yes, my mother has supported me all my life. I wanted to give up chess lots of times because I failed. There were months when I couldn't get any award or prizes. I was devastated and crying, but only work, work, work and mum's support brought results. My mother never had any thoughts to give up chess. Instead, she always cheered me up and said that everything would be great. And it happened.
The child mind is unformatted yet, something goes wrong, he just quits, and that's it. So, parents and coach must help and play a great role.
What does a child reveal when he plays chess?
It develops thinking, logic, a skill to think in advance. And, of course, new acquaintances, new friends. I've got friends and acquaintances in each city of Ukraine. I made many friends when I was 8-14. Then those who have results, they still keep in touch, and lose with some, too.
Chess has also given me an opportunity. I came from a poor family, and due to chess and its support, I visited 10 countries. It was very cool at that time.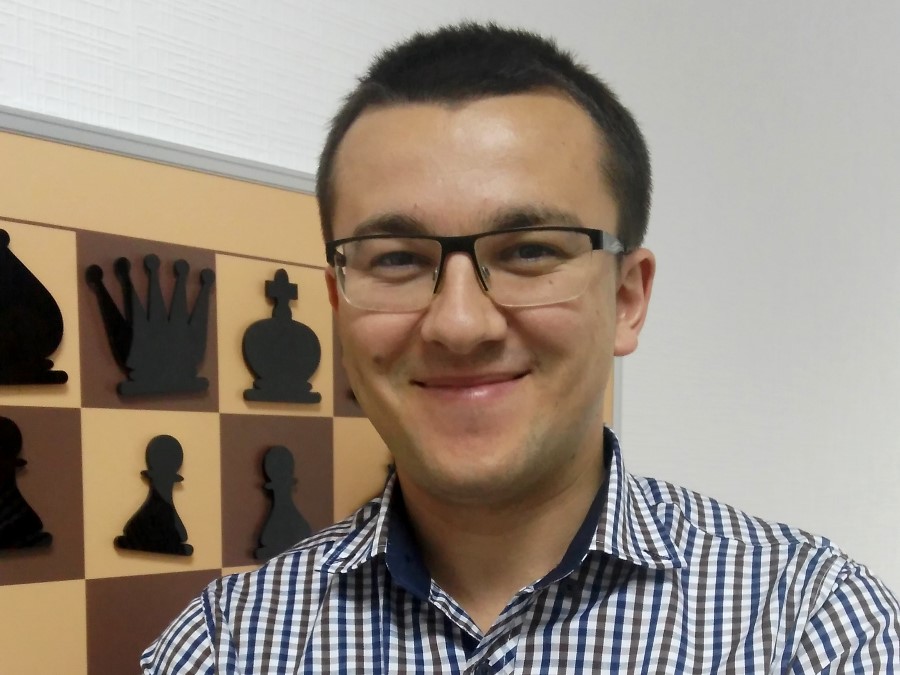 Does your job at School of open-minded kids differ from your previous experience?
Yes. Chess is an obligatory subject here. It's perhaps the first time that Chess is a subject at school because previously I made an announcement at schools and children could enroll in a Chess group. It was easier because parents paid money and were responsible for this. Chess is a specific subject. I've never had such teaching experience before as in this School. I've got 20 pupils. It's difficult to make them be attentive, they are small and we have 35 minutes.
What are your plans?
We are planning to have a Chess lesson till the end of this academic year. But I think we'll make some corrections because we've a program to teach children to play chess. If everything will go as we've planned, I'll teach all children to play chess till the end of this year. We'll fulfill the task ahead of time. School Management will have to decide what to do next. For example, starting from the 2nd grade, I think, it's worth teaching only those who have a desire and not made it mandatory.
Are you going to arrange Chess Tournament at school?
Yes when I teach all children to play chess. We'll organize a tournament at St. Nicholas Day among all pupils. I've got many interesting ideas. For example, I've got an idea to make a show of simultaneous game. I can play against everybody. No one has ever taken part in such game. For the time being, I need to teach them to play chess.
Have your champions won you in chess?
No. No yet.
Aren't you afraid that your pupil will win a chess match?
It's my dream! It's an achievement of each coach if pupils become better. But I want to teach minimum 10 champions not only one!