Let's launch the new operating room in 'Ohmatdyt' together
A new goal for the "!Fund of the Ones who Care" is the patient monitor for the operating room in the Otorhinolaryngologic Department. This device will help to launch the new operating room in the children`s hospital. To achieve this goal we need to collect 142,000.00 hryvnias.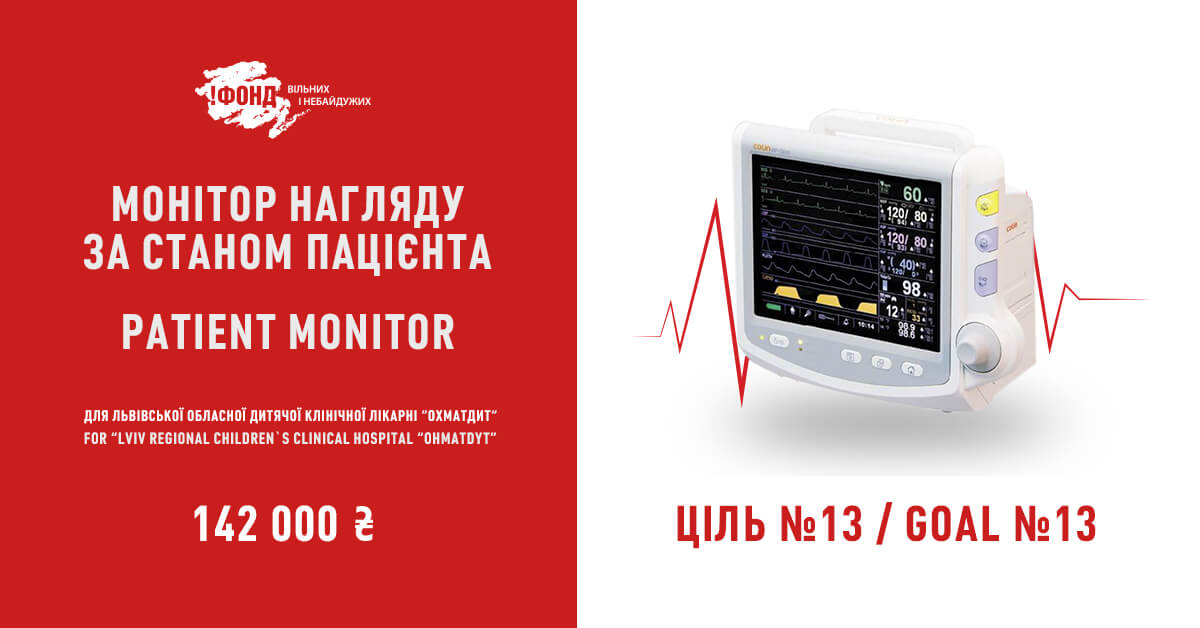 "With the aid of it we will help many families of our region. Now there is no need to take children with different complications from Lviv region for surgeries in Kyiv, because our local specialists will carry out the surgeries here with the help of the patient monitor. I hope the Fund will make a contribution. That is how we will be able to quickly launch another operating room at Ohmatdyt Hospital"– tells Viktoriya Khrystenko, the director of the "!Fund of the Ones who Care"
Therefore, the doctors of the Otorhinolaryngologic Department of 'Ohmatdyt' in Lviv will be able to carry out more complicated surgical interventions. In total, about 3000 surgeries a year are carried out in Ohmatdyt.
You can join to the money raising:
with the help of special charity boxes in the restaurants and shops of «!FEST» HOLDING OF EMOTIONS;
bufons in "Charity" section of LOKAL app
LOKAL telephone helpline 0 800 501 494
donate the money online at the link, as well as on the EasyPay terminal network, searching for the "!Fund of the Ones who Care";
by donations through a bank account:
EDRPOU code: 38738541
Name of the bank:
JSC "Raiffeisen Bank Aval"
Settlement account: 26004405654
Bank code (MFO): 380805
Purpose of payment: Charity support.
Reminder
The "!Fund of the Ones who Care" has been working for 6 years now. This is a community of people who are united by common values and whose calling is good deeds. The priorities of the Fund`s activities is medicine, education and infrastructure projects. Recently, on October 14, on the Defender of Ukraine Day, the representatives of our Fund handed over a new operating table to a Military Hospital, in particular, to the Neurosurgery and Neurology Department. Now this department is equipped with a new multi-purpose operating table of the ЕТ 300 model made by a Ukrainian manufacturer.
Since its establishment in 2013, the Fund achieved 12 goals and collected more than 2,000,000 hryvnias in total.