GOAL 19 OF THE !FUND IS A HEARING SCREENING SET FOR CHILDREN
Goal #18 – Achieved! We have raised funds and ordered an endoscopic electrocoagulator for the Lviv Regional Children's Clinical Hospital Okhmatdyt. We will inform you about its delivery to the hospital later.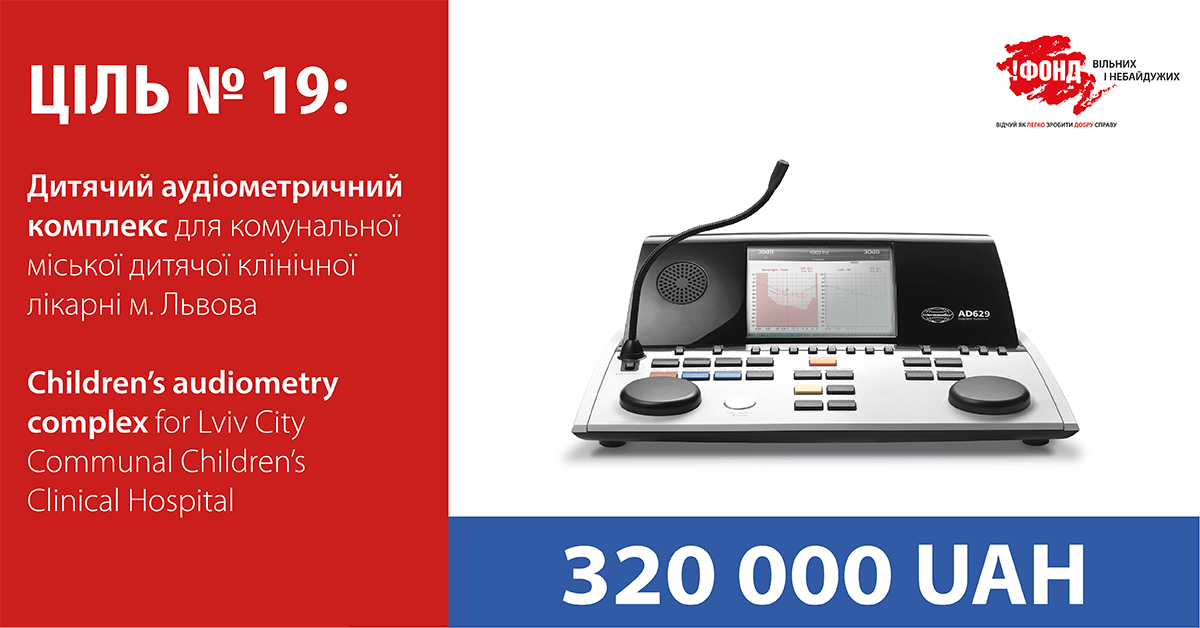 What functions does it perform, and why is it needed?
Here's what Zlata Kuzio, Head of the Orthopedics Department of the Okhmatdyt hospital, says: "At Okhmatdyt, approximately 400 surgical operations are performed every month. During these operations, we use equipment – an electrocoagulator that works in non-stop mode, and it is strained to its limit. This device makes it possible for us to perform the operation safely and quickly, stop the bleeding in time, minimize blood
loss and help patients recover faster."
The next, 19 th , goal of the !Fund of the Ones Who Care is a children's hearing screening set for the Municipal Children's Clinical Hospital of Lviv.
This set will be the only one in Lviv, and doctors will be able to use it to examine children from the entire Western region here. Hearing impairments rank 3rd in terms of disease prevalence and reduced quality of life. It is timely diagnosis that can help to treat such diseases and make full-fledged social adaptation possible for children with hearing impairments.
How does it work?
The set allows for a complete audiometric testing of the children's hearing condition. During the examination, the monitor displays images that serve as visual stimuli and reinforce the child's positive response to sound stimuli. The images fall into seven groups applied depending on the child's age, psychophysical condition and type of examination.
According to ENT doctor Mariana Cherkes, "Our hospital has equipment for the examination of newborn children and children aged 12+, but it is only with the help of a play audiometer that we can really examine children ageing 2 to 12 years, which is extremely important. In Europe and the United States, children's hearing is examined at birth, at 3, at 6, and at 13 years of age. It is well-known that this is the only way to adequately assess hearing and subsequently fight its possible disorders. That is why this device is very important for our hospital."
Amount – UAH 320,000
For a list of goals achieved, see
here
.
You can donate to the !Fund of the Ones Who Care online here or via the EasyPay terminal network.
You can also contribute to the !Fund using bofons (in the LOKAL app or by calling the LOKAL hotline at 0 800 501 494).