Proper first aid kit saves lives on the frontline
«!Fund of the Ones Who Care» announced fundraiser for 10 000+ individual first aid kits for the Ukrainian military.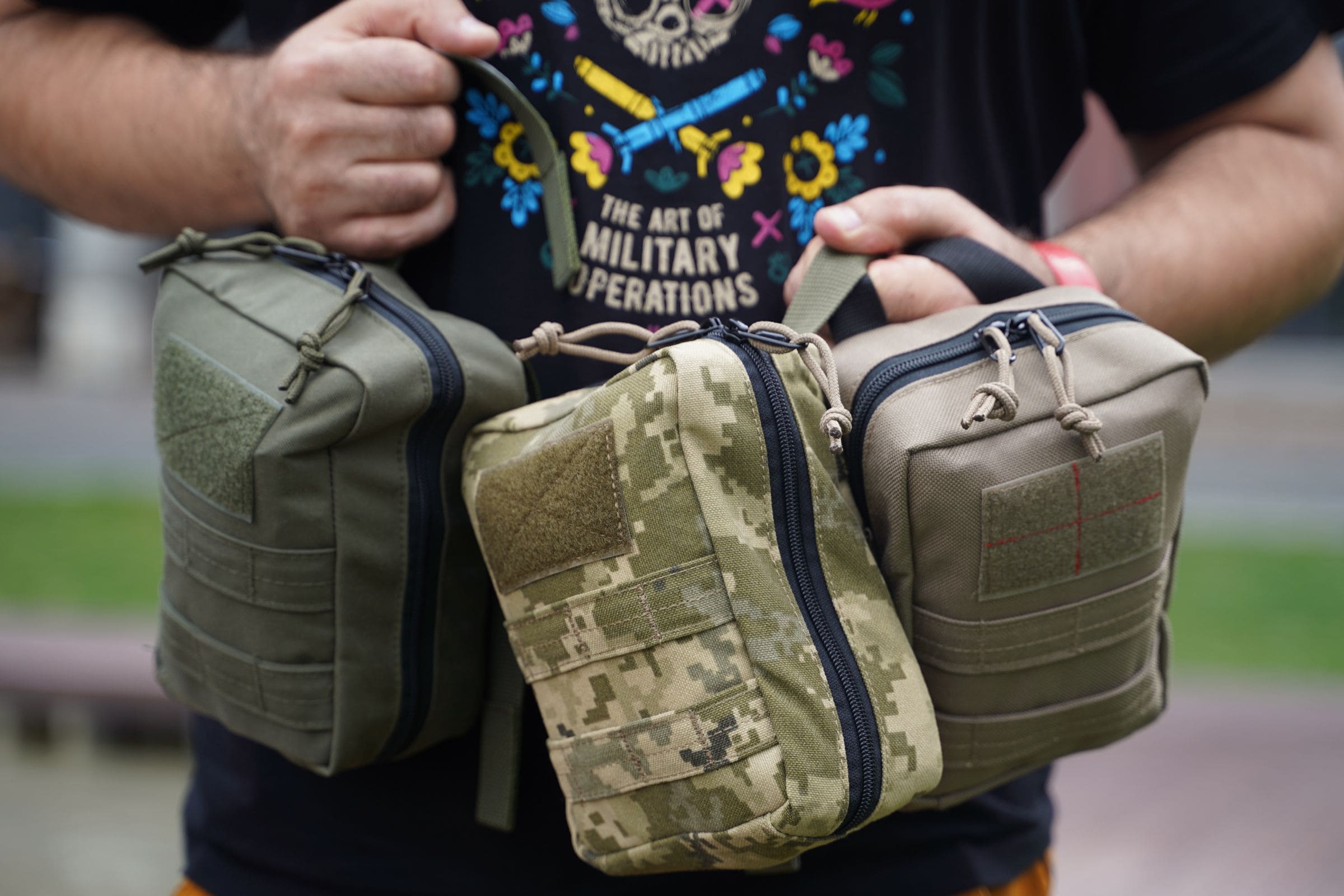 Why a good quality first aid kit matters and how it works?
In February all Ukrainians realized we have to be prepared for the worst, and employees of «!FEST» Holding
of Emotions, not involved in other projects helping the army, took on preparing the medical front. They taught themselves, drew on experience of trainers from all over the world, and received Combat Medic/Corpsman (СМС) qualification. As of now, they share their experience and teach TacMed to the interested based on training programme of All Service Members (ASM) and Combat LifeSaver (CLS) levels according to recommendations of the Tactical Сombat Сasualty Сare (ТССС) Committee.
Namely, while preparing, our guys and girls learned how to assemble proper first aid kits; with this knowledge we move to the new goal of the Fund, as we already know all ins and outs. Our trainers have taught over 2500 Armed Forces and Territorial Defence combatants, and we continue to teach together with our initiatives that hold TacMed trainings.
As of July 2022, we sent over 5000 individual aid kits to the East and South of Ukraine. After receiving calls from Ukrainian soldiers expressing gratitude for teaching and providing lifesaving first aid kits, we are sure that today this goal is in demand. We urge all who are not indifferent to join!
The proper individual first aid kit has a set of components and each of them is intended to help deal with
different injuries in field conditions.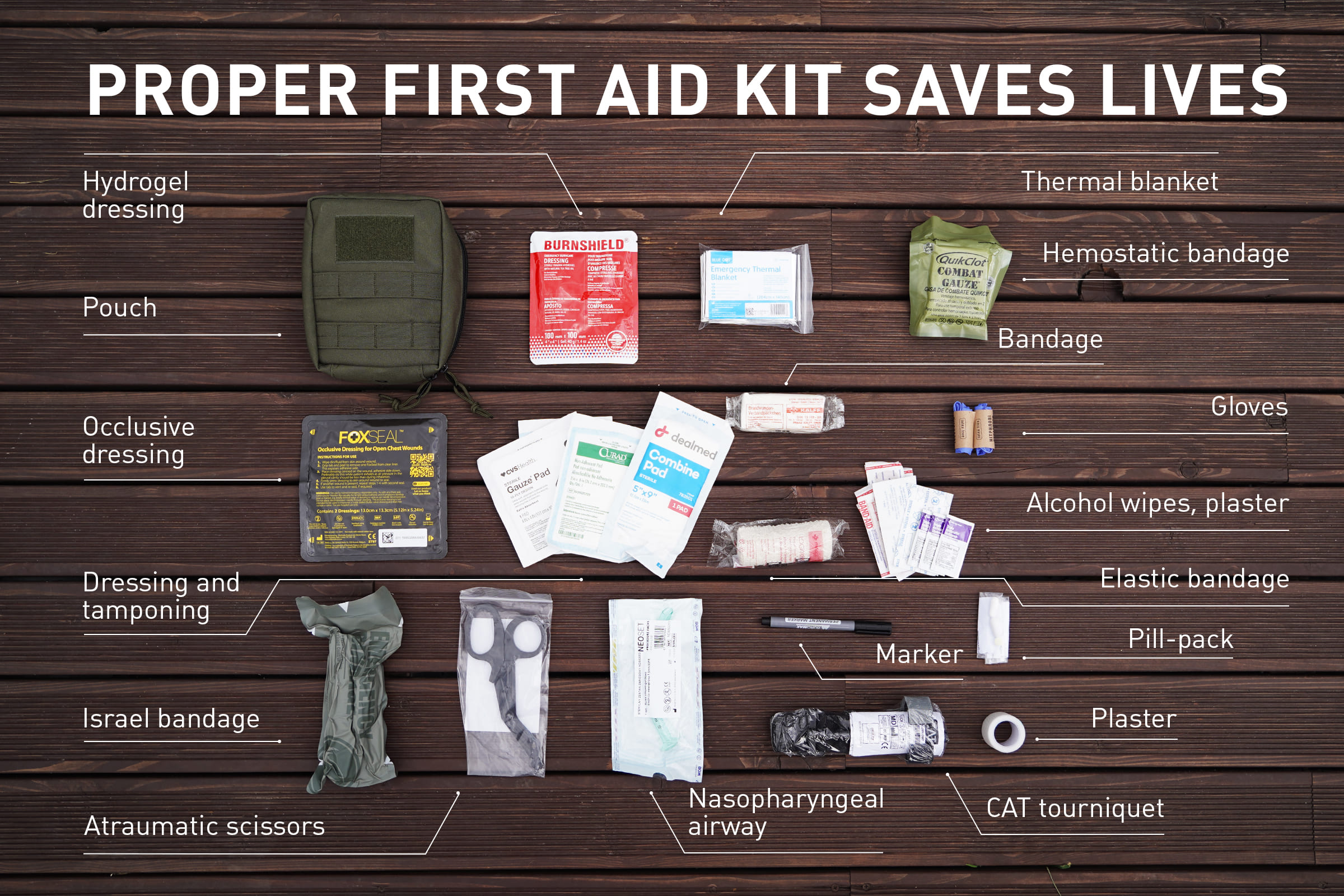 Components included in an individual first aid kit which we assemble
We chose an order for ourselves: first of all, the soldier receiving the first aid kit has to know how to use it and what the purpose of each element is. Before providing a unit with a certain number of first aid kits, we make sure that the guys and girls know how to use them accordingly.
What does an individual first aid kit include and what are all these elements for?
CAT tourniquet — stopping serious bleeding of limbs
Marker — indicating time of applying the tourniquet
Israel bandage —applying pressure bandage
Hemostatic bandage — tamponing and stopping wound bleeding
Gloves — safe inspection
Atraumatic scissors — providing access to the injured body part.
Nasopharyngeal airway with lubricant — better patency of airways
Occlusive dressing — sealing penetrating chest wounds
Alcohol wipes — disinfection
Plaster and dressing — treatment and isolation of wounds
Thermal blanket — avoiding hypothermia
Hydrogel dressing — cooling and preventing infection of burn injuries
Pill-pack — pack of pills for one-time use by an injured combatant. It includes antibiotic, painkiller, and anti-
inflammatory medicine
To emphasize: every element of the first aid kit is important, but it will be useful in saving lives only if you have necessary knowledge and skills.
First aid kits are used in accordance with TCCC (Tactical Сombat Сasualty Сare) protocol based on the level of combatant's training and algorithms MARCH and PAWS which stand for:
M — Massive bleeding
A — Airway Management
R — Respiration
C — Circulation
H — Head injury / Hypothermia / Hypovolemia
P — Pain relief
A — Administering right antibiotics
W — Treating moderate wounds
S — Applying splint and immobilization of the injured limb
So, our current goal is 10 000+ individual first aid kits for the Armed Forces, since each first aid kit means a chance to save someone's life.
Join us!
More information on the achieved goals of the fund can be found
here
. The struggle continues!