Putin Huilo - new beer from Lviv
Beer Theatre "Pravda" has launched a new beer under the name: "Putin Huilo". The beer label tells about foolish ambitions of the President of a neighbouring country and about the Russian imperialism aim of annexing some peaceful European countries.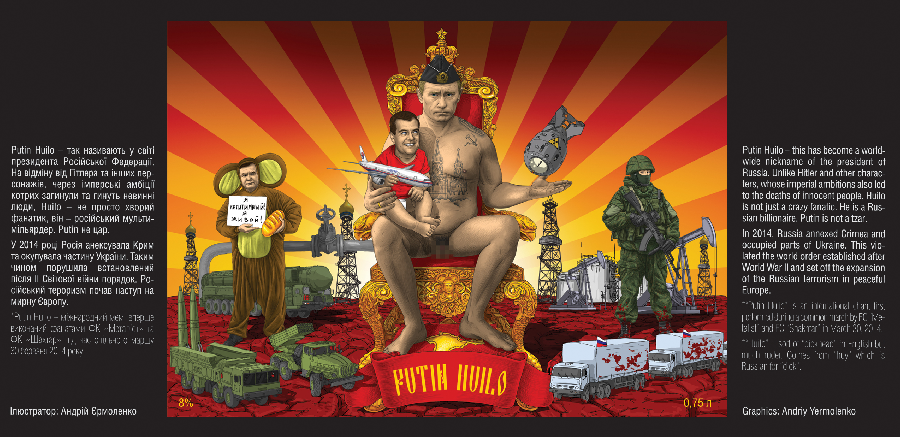 "Putin Huilo – this has become a popular nickname of the president of Russia. Unlike Hitler and others dictators, whose imperial ambitions also led to the deaths of innocent people, Huilo is not just a crazy fanatic. He is a Russian billionaire. Putin is not a tsar. In 2014, Russia annexed Crimea and occupied parts of Ukraine. This violated the world order established after World War II and set off the expansion of the Russian territorial ambition in peaceful Europe. Putin Huilo is an international chant first performed during a common march by FC "Metalist" and FC "Shakhtar" in March 30, 2014," the label reads.
Newbeer brandisblondeale (triple) that has gone through additional dry hopping (dry hopped ale). After fermentation, dry hop is added and when maturing it undergoes one more stage, i.e. dry hopping. We have added aromatic sorts of hops in order to fill it with more flavour.
Such technology is used in the world for additional ale dry hopping. It influences both taste peculiarities and beer colour. Famous beers that are using this technology are IPA si dead from Brew Dog, Bommen & Granaten from De Molen, Guldenberg (De Ranke).
We would like to remind you that Beer Theatre "Pravda" was opened in Lviv in December, 2014.Eight house brands of beer are brewed here for the time by some well-known brewers from Belgium, Germany, the Czech Republic, Netherlands.You can taste draught "Pravda" beer at Beer Theatre as well as buy bottled one at our shop.
Beer Theatre "Pravda" – Lviv, 32 Rynok Square, 050 374 49 86. Find us at Facebook.