"!FEST" Holding Of Emotions: 10 Years Of development
April 6th is a day when our history begins. It's the history of unique restaurants and projects with unusual concepts of "!FEST" Holding of Emotions.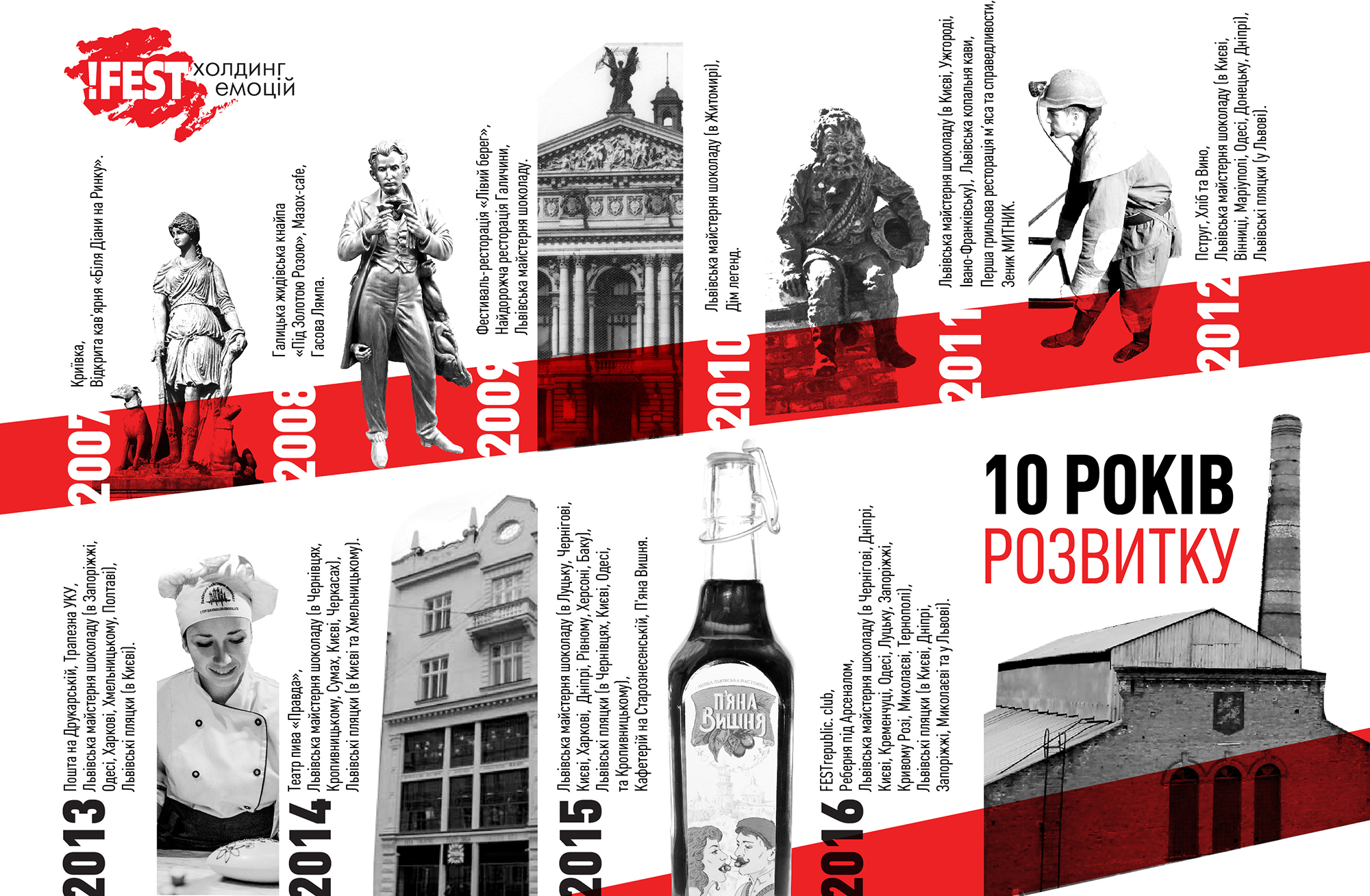 We'll tell you more about our Company, the team and future prospects during a month. So, follow our page in Facebook and find out more!
We would like to thank all people who have supported us during these years: our friends, partners, guests, colleagues and those who worked in our team before.
THANK YOU!
We continue to create a unique space of positive emotions and impressions: we make our city, country and ourselves better.
We also say thank all LOKAL members of Fund of the Ones who Care!
Thank you for staying with us, supporting us as well as for praising and criticizing us. It helps us to develop and be better.
We have arranged a special "bofon bomb" (bofons = reward points) for all LOKAL owners dedicated to anniversary of "!FEST" Holding of Emotions. What does the Company suggest?
You'll earn twice more bofons in our restaurants: 10 uah = 2 bofons;
Each bofon will be charged off with a double price: 1 bofon = 2 uah.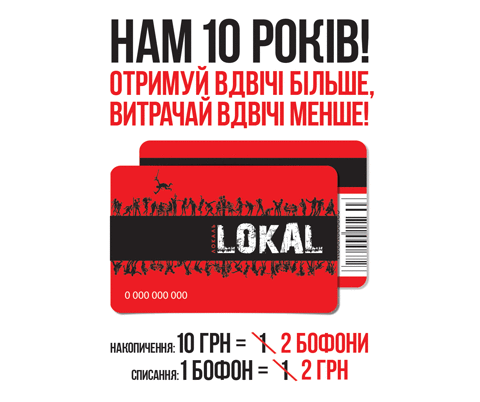 Attention! The offer is only available in Lviv in the following "!FEST" Holding of Emotions restaurants:
Kryivka
Masoch-café
The Most Expensive Galician Restaurant
"At the Golden Rose" Galician and Jewish restaurant
Beer Theatre "Pravda"
Arsenal. Ribs and spirits
Trout, Bread and Wine
The First Lviv Grill Restaurant of Meat and Justice
Lviv Coffee Mining Manufacture
"Diana at Rynok Square" open air café
Resto-pub "Opera Underground"
Pub-museum "Gas Lamp"
Zenyk MYTNYK
Post Office on Drukarska Street
House of Legends
Cake and cherry house
Lviv Cheese Cake and Strudel Bakery (13 Rynok Square and Victoria Gardens mall)
FESTrepublic. club
Guests can only earn double bofons in Lviv Handmade Chocolate.
The present offer is not available in "!FEST" Holding of Emotions projects. i.e. Aviatsiya Halychyny, Old Lion Publishing House, Convenience stores chain "Two steps away from the house", etc.
To sum up, the rules are as follows:
Only in Lviv;
For all LOKAL cards (except green);
Till the end of April;
Earning double bofons in all our restaurants;
Charging off – all restaurants except Lviv Handmade Chocolate.
Thank you and enjoy!