Jazz Bez: the contemporary world jazz in Lviv
Like gifts for St. Nicholas day, in December, Jazz Bez will unchangingly take place in Lviv - this time it will be the XVIIIth International Jazz Bez Festival.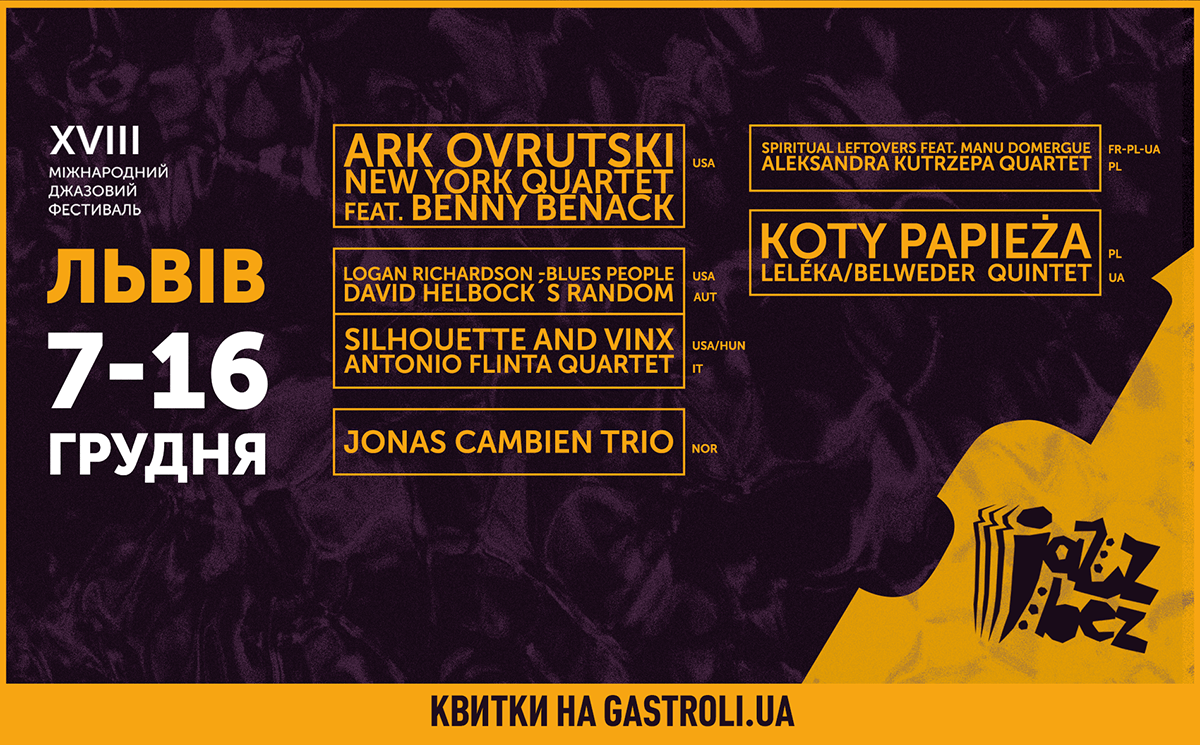 Mark your calendar for December 7-16. It is then that in Lviv you will be able to listen to musicians from the USA, Austria, Norway, Germany, Hungary, France, Italy, Belgium, Poland and Ukraine. Premier album presentations, collaborations of the best jazz musicians, a lot of sophisticated and at the same time close by the perception jazz music - all these will be at our locations as well as in 19 cities of Ukraine and Poland. Do not miss a great jazz marathon in your city. Please find the detailed information about the festival, program and musicians-Jazz Bez participants at www.jazzbez.org. Tickets can be purchased at GASTROLI.UA.
One of the brightest discoveries of this Jazz Bez – Leléka, the Ukrainian-German ethno-jazz band – will give a concert at !FESTrepublic. Their music is based on the well-known folk Ukrainian songs, which is successfully combined with contemporary European jazz. So, come and feel the magic from the combination of challenging musical improvisations and Ukrainian melos all together!
Jazz Bez Program in favorite places
December 14, Saturday
!FESTrepublic
7:00 p.m.
Spiritual Leftovers feat. Manu Domergue (Poland –France –Ukraine)
Radek Nowicki – tenor saxophone
Manu Domergue – vocal
Anastasiia Lytvyniuk – piano
Igor Hnydyn – drums
Mariusz Prasznievski – double bass
---
December 15, Saturday
Lviv Coffee Mining Manufacture
7:00 p.m.
Aleksandra Kutrzepa Quartet (Poland)
Aleksandra Kutrzepa – violin
Bartłomiej Garczyński – electric guitar
Michał Studniarek – bass guitar
Robert Kutrzepa – drums
Koty Рapieża (Poland)
Jacek Bieleński - vocal, guitar
Piotr Łyszkiewicz - saxophone, clarinet
Marcin Zabrodski - keyboard
Karol Kolor Gadzało - double bass
Piotr Gwade - percussion
---
December 16, Sunday
!FESTrepublic
7:00 p.m.
Leléka (Germany-Poland –Ukraine)
Viktoria Korneykova (UА) – vocal
Robert Wienröder (D) – piano
Thomas Kolarczyk (PL) – double bass
Jakob Hegner (D) – drums
Belweder Quintet (Ukraine)
Yaroslav Kazmirchuk — trumpet
Refat Asanov — saxophone
Taras Kushniruk — guitar
Mark Tokar — double bass
Leonid Petkun — drums