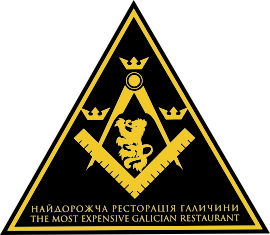 Lviv, 14 Rynok Sqr., Apt. 8 (2 floor)
+38 (050) 430 87 83
Mon – Sun 13:00 – 22:30
The Most Expensive Galician Restaurant
The world of esoteric; sometimes called masons.
The Most Expensive Galician Restaurant is located in the heart of ancient Lviv, facing the City Hall over the Winged Lion. This is a hidden from prying eyes restaurant where guests can get into the world of mysterious interior, light classical music and jazz, enigmatic symbols and signs, Masonic traditions and European cuisine.
When visiting the restaurant, you can feel like a knight at a round table or a romantic sitting at a table and overlooking the Rynok Square, as well as learn which Ukrainians contributed to the Masonic movement and how the Masonic movement influenced Ukraine.
Feel yourself Chosen!