Frau Ribbentrop – already at Beer Theatre "Pravda"
Beer Theatre "Pravda" in Lviv not only brews beer, but also concocts precious news and infos on its labeling. Each bottle tells some story. The brewery has recently launched a so called political beer series where each beer tells about world leaders that have relations with the war in the East of Ukraine and can stop it. This beer has already become popular in Ukraine and far abroad and it was even sent to some of the heroes shown on the labels. On April 29th a new blonde ale has appeared — Frau Ribbentrop.
# 1. Frau Ribbentrop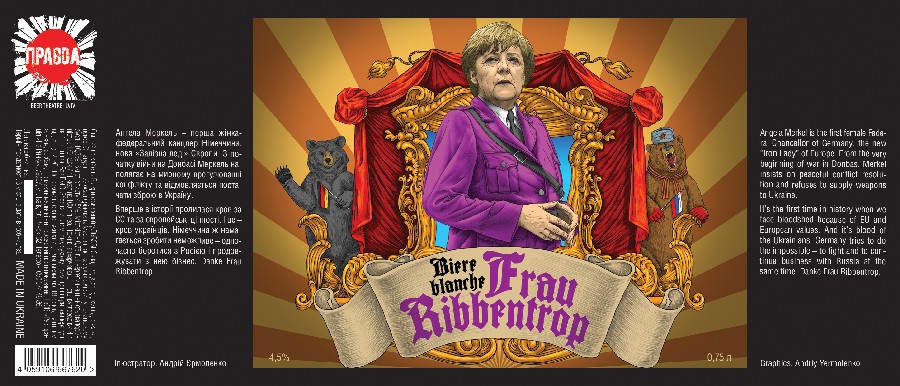 The newest beer brewed at Beer Theatre "Pravda". "Angela Merkel is the first woman Federal Chancellor of Germany, the new "Iron Lady" of Europe. From the very beginning of the war in the Donbas region Merkel insists on peaceful conflict regulation and refuses to supply weapons to Ukraine. For the first time in our history we face bloodshed because of our EU and European desires at the terrible cost of Ukrainians blood. Germany is trying to do impossible; fight and continue to do business with Russia at the same time. Danke Frau Ribbentrop!" – says the label.
Frau Ribbentrop beer is a light blonde ale (4,5%).
# 2. Putin Huilo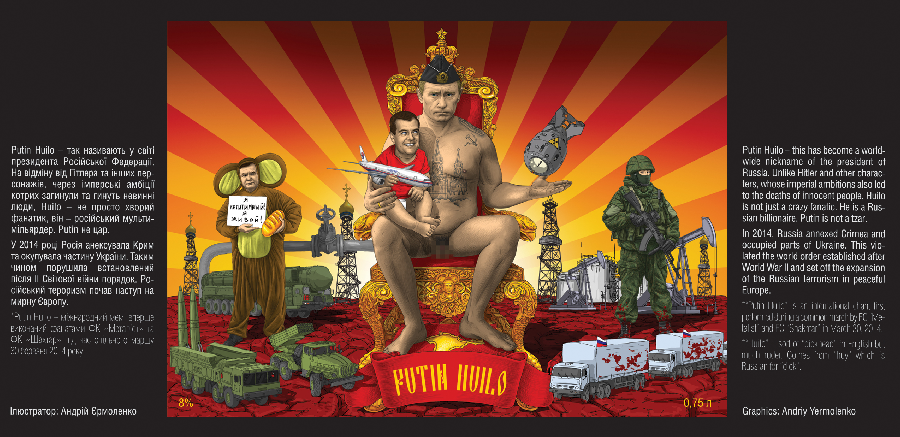 The name tells about itself – about the guilty person of this cruel war, having occupied the East of Ukraine and invaded Crimea; about his aggressive ambitions and Russian imperialism greed that threatens Europe and the whole world order, established after World War II.
Putin Huilo is a strong blonde dry hopped ale (8%). A case of such beer was even sent by the brewers to Moscow Kremlin.
# 3. Obama Hope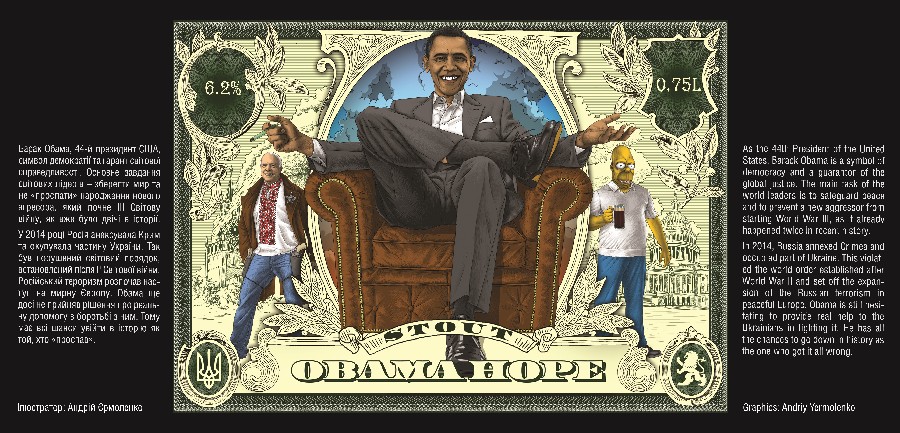 It's stout, dark ale (6,2%). It was the first one to be sold from this political series. US President Barack Obama is displayed on the beer label like a power who can change the direction of the "wind" of war in Eastern Ukraine, by supplying weapons to stop Putin's invasion of peaceful Europe. Sharing the label, along with Obama are the popular Homer Simpson from "The Simpsons cartoon series" and the American republican senator; John Mc Cain, a staunch supporter of the Pro-Ukrainian views. It's an ale with coffee and chocolate flavour and with a creamy foam (6,2%).
Pleasereadabout the first bottled beer at Beer Theatre "Pravda"in Lviv.
Beer Theatre "Pravda"– 32 Rynok Square, tel.: 050 374 49 86. We are at Facebook.