"Pravda": numbers & facts: 100 brewing cycles, 200, 000 liters
Beer Theatre "Pravda" is already half of year old. The "Pravda" beer team will brew their 100th batch. Here are the achievements of the past 6 months of "Pravda" brewery: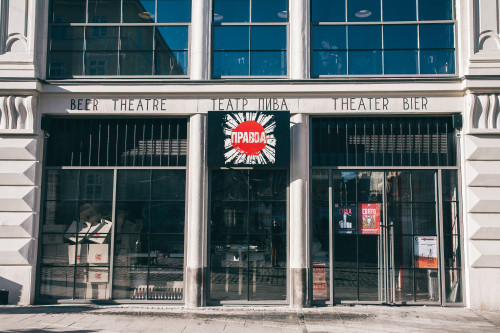 11 varieties ofdraft beers: Pravda Svitlo, Pravda Frau, Pravda Kvitka, Pravda Syla, Pravda Vesna, Pravda Svyato, Pravda Ginger, Shoto 1, Pravda Stout, Pravda Season with buckwheat, Pravda Night.
7 varieties ofbottled beers: Lvivska Vesna, Syla, Svyato, Putin Huilo, Obama Hope, Frau Ribbentrop, Jam.
Interesting facts and numbers:
Beer Theatre "Pravda" opened on December 15, 2014 with a restaurant, an open brewing facility, a working stage for guest brewers of different countries and a "Pravda" orchestra.

"Pravda" was created by experts of 7 nationalities and there are 8 people in beer team.

Brewers from 4 countries have made beer – Ukraine, the Czech Republic, Belgium, the USA.

One brewing cycle last from 6 till 16 hours. There were 100 brewing cycles during that half a year.

Brewers used 400 kg of malt per brewing cycle - it's 40 tons for the past half a year.

100 kg of beer yeast, nearly 700 kg of hops and about 1 million liters of water were used.

10 types of malt and 13 types of hops are used to make "Pravda" beer.

200, 000 liters of beer were brewed in the past six months.

The length of "Pravda" beer tubes is 300 meters.

44 bottling processes were achieved and 82, 000 liters of beer were bottled.

Beside traditional ingredients, buckwheat, wheat, coriander, lime and lemon, fir buds, ginger, thyme were also introduced into beer making.

200 kg of blackcurrant was used for the special beer "Jam" released for Alfa Jazz Fest.
We would like to remind you that a new main brewer Cory McGuinness has joined Beer Theatre "Pravda" team since May.