The Hat, the Whale and Good Deeds for Children. Babkina to Present Her New Book in Lviv
On Saturday, February 13, a presentation of a very important book "Shapochka and Kyt" (Eng. - "The Hat and the Whale") will take place in Lviv by the author, Ukrainian writer Kateryna Babkina. The book was published by "Old Loin Publishing House". It is dedicated to oncology children. Moreover, a part of money from sold books will be transferred to help children with such disease.

"The Hat can't do many things nowadays – eating different sweets, riding a long board and even patting dogs. He must take pills in time because the Hat (the boy has got such name when his hair fell out after chemotherapy and he didn't want to take off his blue knitted hat) is still struggling with leucosis. The boy is not depressed but communicates with his new friend – a blue and grey Whale who nobody knows how has appeared in the air in the city. The Whale can ride the Hat on his back over the clouds…" – says the anotation to the book.
5 UAH of every sold book will be transferred to "Tabletochky", an International Charity Fund, to help children who suffer from blood cancer. Kateryna Babkina will tell us more details about her book and a charitable project.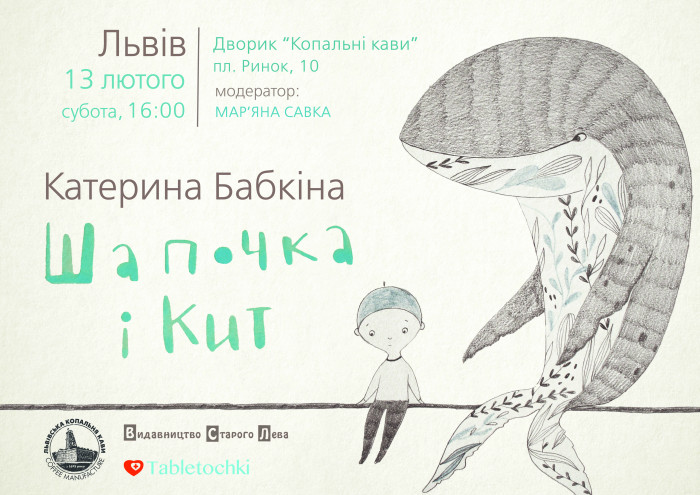 Time: 16:00. Date: Saturday, February 13.
Location: "Lviv Coffee Mining Manufacture".
Moderator: Maryana Savka. Please find more details at Facebook.

Photo from Instagram Kateryna Babkina