Education festival In Lviv "Teachers Of The Future" will take place on April 21-22, 2018
Two-day Education Festival "Teachers of the Future" will be organized in Lviv for local teachers and teachers from all over Ukraine. We are inviting great speakers who will discuss the latest educational topics. We are arranging a cool event that will assist teachers to change education nowadays. We strongly believe that school and teachers of the future are about fun, drive and rock-n-roll at their best. That's why, together with the Public Organization "Osvitoria", that is changing and developing education in Ukraine, we have created such festival.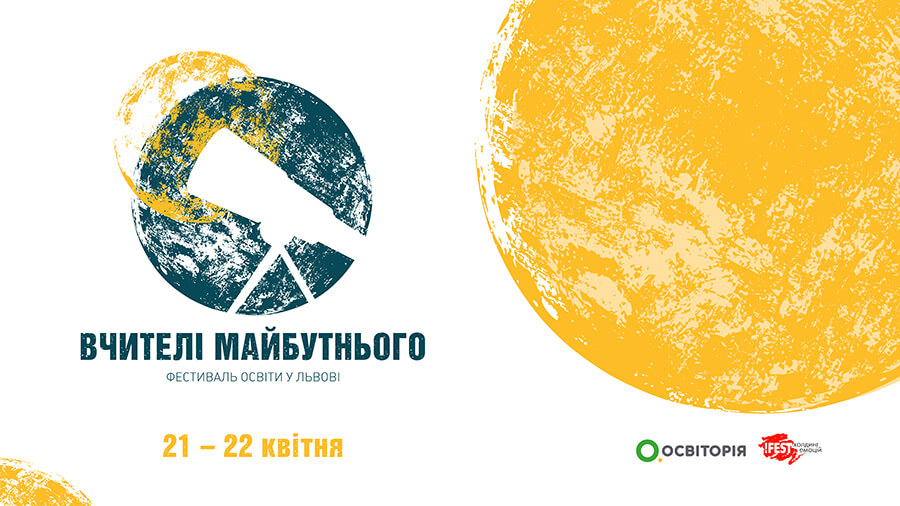 The event will take place in April 21-22 in !FESTrepublic, 24-26 Staroznesenska Str.
The program is very extensive and exciting: inspiring lectures on education philosophy, practical master-classes, presentations of educational initiatives and projects, coffee breaks with educational leaders, non-stop networking and hanging outs on the roof.
Here are several topics:
Ukrainian education in a global context: vectors of motion
How artificial intelligence,3D-print, robotization and Big Data will influence education
Basic skills for teacher of the future
Will online education absorb an offline format?
Master-class "A Theory of Games and Their Application at School and in Life"
We are having lots of expectations for the festival: from global to local ones. Thus, Olenka Severenchuk, Manager of Creative Educational Projects in the Public Organization "Osvitoria" says: "We are expecting to inspire and be inspired by Lviv educational specialists, understand their strong points and areas of increase in order to define a format of next events. As a result, it may be possible to establish a branch of "Osvitoria" in Lviv. And, of course, to spend time greatly."
The following speakers will deliver lectures in our Festival and we are really proud to have such guests: Pavlo Khobzey,Deputy Minister of Education and Science; Inna Bolshakova and Maryna Prystinska - the authors and trainers of teacher preparation program for primary classes and experts of the Public Organization "Osvitoria"; Maryna Vostrova, a psychologist at International Institute of Integral Development; Stas Drogayev, an expert of Laboratory of Educational Changes, Impact Hub Odessa.
The event is organized with the help of the Public Organization "Osvitoria", Department of Education and Science of Lviv Regional State Administration and Education Administration Department of humanitarian policy of Lviv City Hall.
We've also invited developers to represent new educational technologies that are now deploy in progressive schools.
We've created an "Educational Café" where we'll communicate in an unofficial atmosphere: teachers, specialists, experts and just interesting people about education and future.
You must register in advance to visit the festival. Entrance fee is 200 uah, valid for one or two days. It includes all lectures and master-classes, drinks and food, and the entertainment program.
The program starts on 21 April at 11:00 am, but we are looking forward to seeing everyone earlier, traditionally in Lviv for a cup of coffee and acquaintance!
The full program will be announced on April 16th. Follow our news on the website!