"I love everything about my work", Yulia Voloshyn, brewer at Pravda Beer Theater
Brewing is not an easy craft. On top of everything else, our Pravda Beer Theater is a brewery that brews a tasty beer of world class. Pravda beers get awards at international beer competitions! And behind this success, there is a good team.
The team also includes Yulia. She is the only girl who works at the manufacturing site and brews beer. Yulia Voloshyn is a brewer and the Head of the Laboratory of the Pravda Beer Theater. We've had a little chat with her about brewing and beer!
Had you been told five years ago that you would be a brewer, would you have believed it?
Five years ago, I already knew what I was signing up for. I chose a peculiar faculty to study at.
Where did you study?
Faculty of Food Production, specialty "Fertilization and Winemaking" in Lviv Polytechnic University.
I liked chemistry, I was good at it, and I had a very pragmatic approach to my choice. I didn't manage to obtain the state subsidy for medical education. I did not want to be a schoolteacher. But people will always drink wine and beer, so I will have prospects for development.
My parents have friends who own a large winery abroad. And after the first year of study, I was accepted for on-the-job training there. It was absolutely fantastic! That place is so cool!!! The facilities are as large as our !FESTrepublic and all in the open air too. Huge pots, three-floors high. Delicious champagne in one of them, good Riesling, Pinot Noire, Cabernet, and young Chardonnay in the others. The students undergoing training there were given an opportunity to participate in the process: we added yeast, measured sugar content, carried out experiments, daily tests, and measured temperatures. It was a complete immersion in the future profession and it was great!
It is very inspiring when you see the production and immediately see the result – that it is a good, high-quality product. Therefore, I had been doing well in University until I entered the Master program. This is when I began to work in Pravda. And now, I cannot complete my graduation thesis.
What's the topic of your master's thesis?
It's about sour beers. We in Pravda have been toying with this idea. All in all, for Ukrainians, this is a rather uncharted territory, in both practical and academic aspects. This is why it's interesting to write about it and this is why I took it up. However, the topic has not been approved yet and there is no literature to rely on.
So, you have only practice?
Yes, only practice.
How did you come to work in Pravda?
My group-mate said that there was a job in the bar. Well, I thought I'd work somewhere around the brewery. That's cool.
I speak English well, I got acquainted with Cory McGuinness (he used to be the head brewer at the Pravda Beer Theater) and guys from the brewery, and asked them a lot of professional questions. Once Cory came to me and said: "I need a person who could take care of our laboratory. I want to do various tests, but the guys are ill-suited for this. They lack the concentration and attention and so on. This is why I'd like you to start working in the brewery." "Of course," I said. I jumped at the chance!
How long had you worked at the bar?
3 months.
You were transferred to the brewery rather fast. What is the laboratory like? What is going on there?
Each food production company has a laboratory where product quality control is performed. First, my job was to carry out basic daily experiments on what happens to beer.
For example, beer contains an initial amount of sugar, which is decreasing while yeast is fermenting. To put it in simple terms, it "eats" sugar and the amount is becoming smaller and smaller. When the amount of sugar stops changing, it means that the yeast has "died" or stopped working. This is what every employee of our brewery does or, at least, is able to do. Just to know what is happening to beer. These were my first tasks.
Then we began to experiment with yeast. And despite all this, I learned to do everything in the brewery, except to grind malt. Everything is more difficult for me than for them. But now I can do everything.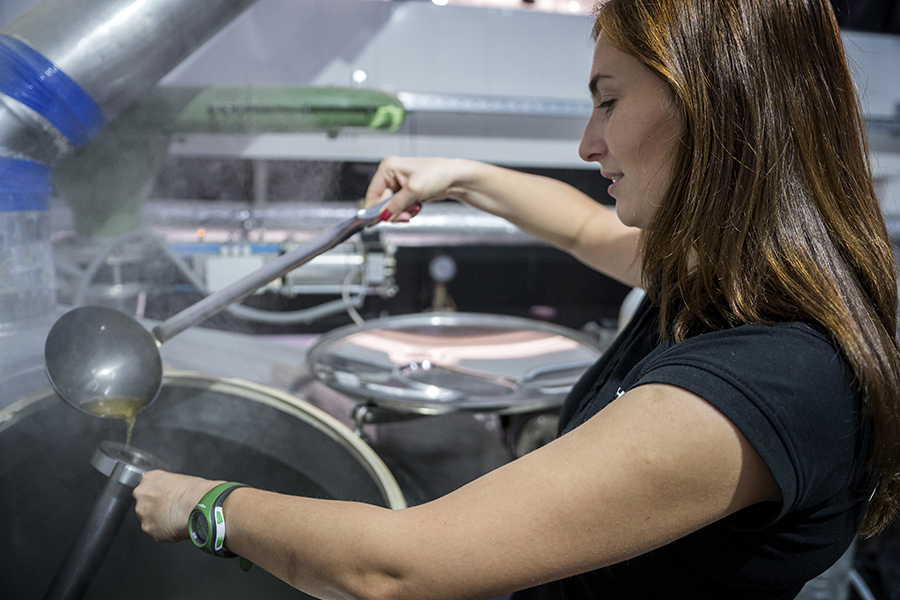 How did you start brewing beer?
When Cory McGuinness decided that he and Pravda should go their separate ways, we were short of brewers. These were only Dima and Cory who brewed beer.
In a haste, Cory began to teach Ihor to brew beer, as well as me, Nazar, and other guys with a longer work experience in the brewery. It was quite an intensive course. But we all had our own tasks, our own work to do.
I have a couple of mandatory brewing sessions a week. Apart from that, I work in the laboratory and plan brewing.
How long have you been brewing beer?
About six months.
How much beer have you already brewed?
About 40 brewages.
How much is it?
80 thousand liters of beer. It's not much.
Maybe you're working on your own beer recipe?
Yes and no.
In fact, my beer, which I created from start to finish, is Jam 4. For this beer, we used the technology of mixed fermentation of lactic acid bacteria and yeast. Nobody else wanted to bother with it. That is, I brewed it, I pasteurized pomegranate juice, I added it. I was supervising the process. This is the beer I can refer to as "mine".
Everyone in the brewery has his own beer. For example, my colleague Nazar contributed the most to our elderberry beer Zamkova Hora. He himself went and picked elderberries, and then brewed beer. This is the way our life is.
What do you like the most about your job?
I love everything about it. This is a young company that grows and develops. We do not have any routine. No routine at all! Permanent movement. Every day you face new challenges and adventures. It's the coolest thing.
Your day starts as usual and then turns into something else, something interesting.
Or, for example, you are brewing beer and you think you know what the day is going to be like. But it is Staroznesenska Street and they suddenly turn off light or water for 13 hours.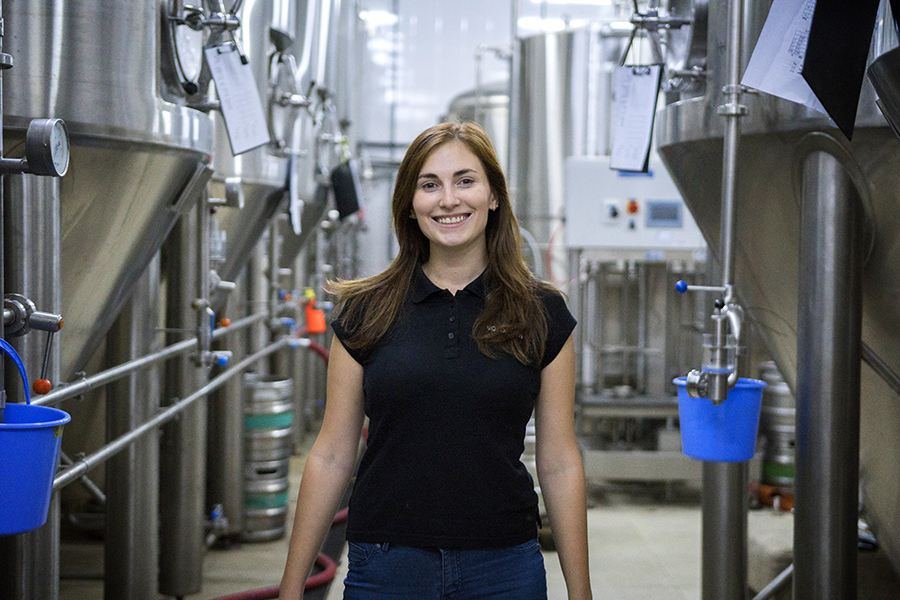 Where did you take the water?
We got into our car, took a barrel and drove to the Rynok Square to bring water.
Do you have your own professional beer dream? To open a brewery or create your own unique beer recipe?
Everyone wants to open their own brewery. The No. 1 task for me is to maintain our quality control at the highest level.
The coolest thing you can do in this lab is to produce yeast – that is, to provide ourselves with yeast. But this requires special equipment and a good microbiological laboratory.
Did you brew beer at the Craft Beer and Vinyl Music Festival?
I brewed Osinnia Nich, and it was represented at the festival and will be available in the Pravda Beer Theater in Rynok Square. It's a smoked porter, dark beer.