"!Fund of the Ones who Care" collects money for an operating table for a Military Hospital
A multi-purpose operating table for a Military Hospital (Model ET100, electro-hydraulic and radiodense) is a new, already the 12th goal announced by the "!Fund of the Ones who Care". The sum, which is being raised in order to buy new equipment, amounts to 262,000 UAH.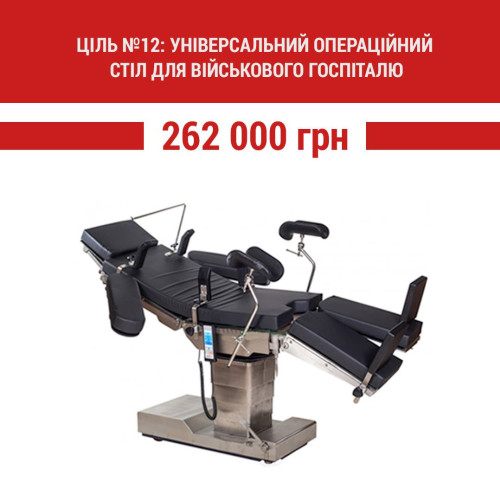 Operating table ET100 is a multi-functional multi-purpose table with electro-hydraulic transmission (i.e. the table and its parts are movable, which allows to place the patient in different positions), made by the Ukrainian manufacturing company. It allows carrying out more difficult surgeries in a shorter time, which consequently preserves patients' health. An important function of the operating table is radiodensity, meaning that the doctors can make an X-ray during surgeries.
This is a very helpful function in case of carrying out surgeries on injuries and spine gunshot wounds, as it boosts efficiency and accuracy of the surgical intervention. The table also allows carrying out neurological brain surgeries while a patient is seated. It is important that the operating table ET100 is powered by a battery so it will work without interruptions even in case of emergencies in the network.
"The war set us a task which we haven`t faced before. To solve such difficult problems we need a new operating table which allows the patient to be in the positions which are hard for ordinary people to imagine", - tells Rostyslav Ivanyk, head of the Neurosurgery department of Military Medical Clinical Center of the Western Region.
You can join the !Fund by using bufons in "Charity" section of LOKAL app, or by using the telephone helpline LOKAL 0 800 501 494 - by bufons or hryvnias.
Details:
Receiver: Charity Fund of the Ones Who Care
EDRPOU code: 38738541
Name of the bank:
"RAIFFEISEN BANK AVAL" JSC
Settlement account: 26004405654
Bank code (MFO): 380805
The purpose of payment: Charity assistance.
Reminder
"!Fund of the Ones who Care" is a charity fund which sets goals and raises money for equipment and projects which help a great number of people. Education, medicine and infrastructural projects are priority activities of the Fund. It is filled with contributions from caring people at the facilities of !FEST Holding of Emotions, as well as by bufons, which are voluntarily donated by the participants of LOKAL community.
Since the foundation in the year 2013, the Ones who Care have reached 11 goals and raised more than 1.8 million UAH in total.