Chef at "The Most Expensive Galician Restaurant" – one of the best in the world
A chef at "The Most Expensive Galician Restaurant" is a winner at a famous culinary contest "Biser Mora-2015" annually taking place at Brac Island, Croatia.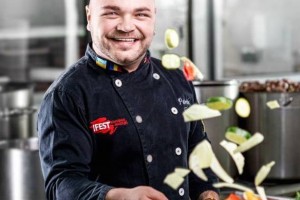 31-year old Florin Patrichi was awarded a gold medal in the "Offals" organ meats category nomination. He was competing with 20 chefs. The winning dish is Pork offals, flour pumpkin seeds sauce, spinach.
Participants from Ukraine were chosen from a national contest. Each dish had a standard recipe and chefs were adding something of their own creation. All dishes were prepared and tasted 20-30 times. The contest lasted for four days. Ukrainian team arranged a "Party of Ukrainian Cuisine" in the third day.
The contest among the best cooks was in its 10th years, however representatives from Ukraine took part in it for the first time. And at the first attempt Ukrainians won one gold and three silver medals, competing among 300 professional cooks from 18 countries.