Mykola Fedotov. A new menu at "The Most Expensive Galician Restaurant" and chef's planetary mission
"The Most Expensive Galician Restaurant" has renewed its menu. Mykola Fedotov, a new executive chef, has told us how dishes are served in crystal ware in the most secret restaurant of the city.
Mykola Fedotov has already had 6 years of cooking experience. Being 33 years old, an engineer who worked for a construction company, he once decided to change his life drastically.
"I thought over my mission on our planet: what benefit is working in a marketing department of construction organization. I understood that I was doing something wrong and would have nothing to tell my grandchildren with pride. I started to work in a café. It was an unpaid job; I came there in the evenings after my office work. My motivation was to learn cooking. Later on I resigned from office and began to work as a cook for money", he says.
Mykola has worked in 10 different restaurants in Moscow and Sevastopol during these years.
"When you do what you want, then the life takes you in the right direction... After my decision being a cook, in two years I was offered to open a restaurant and become a chef there. I understood that I knew almost nothing but realized that life is too short to refuse from such opportunities. So, I accepted...", he says.
Besides cooking Mykola began teaching – sharing with his culinary knowledge. Since fall this year his new duty is improving the concept of dishes at "The Most Expensive Galician Restaurant".
Mykola, what are your tasks as an executive chef at "The Most Expensive Galician Restaurant"?
My task is to teach cooks new cooking techniques and a new perception of this profession. We are working over new methods of food processing and organization of kitchen operation. We've expanded a kitchen to upgrade menu, thus making it more exciting and delicious. We've divided kitchen sections and made dishing out separately in order to control better quality and serve dishes to our guests in time.
Servers and management have already noticed that dishes are served faster than before owing to preparation arrangement of semi-finished products. For example, dishing out takes 10 not 20 minutes now!
Moreover, I've got an educational function in !FEST Holding of Emotions. It's staff teaching. For the time being we are getting ready for it, so we'll speak in details about it later. But Culinary School will definitely be organized. And those who wish to learn can get much useful knowledge. I don't have a clue what students are taught in higher cooking establishments now but from my own experience I know that the best culinary education is practice.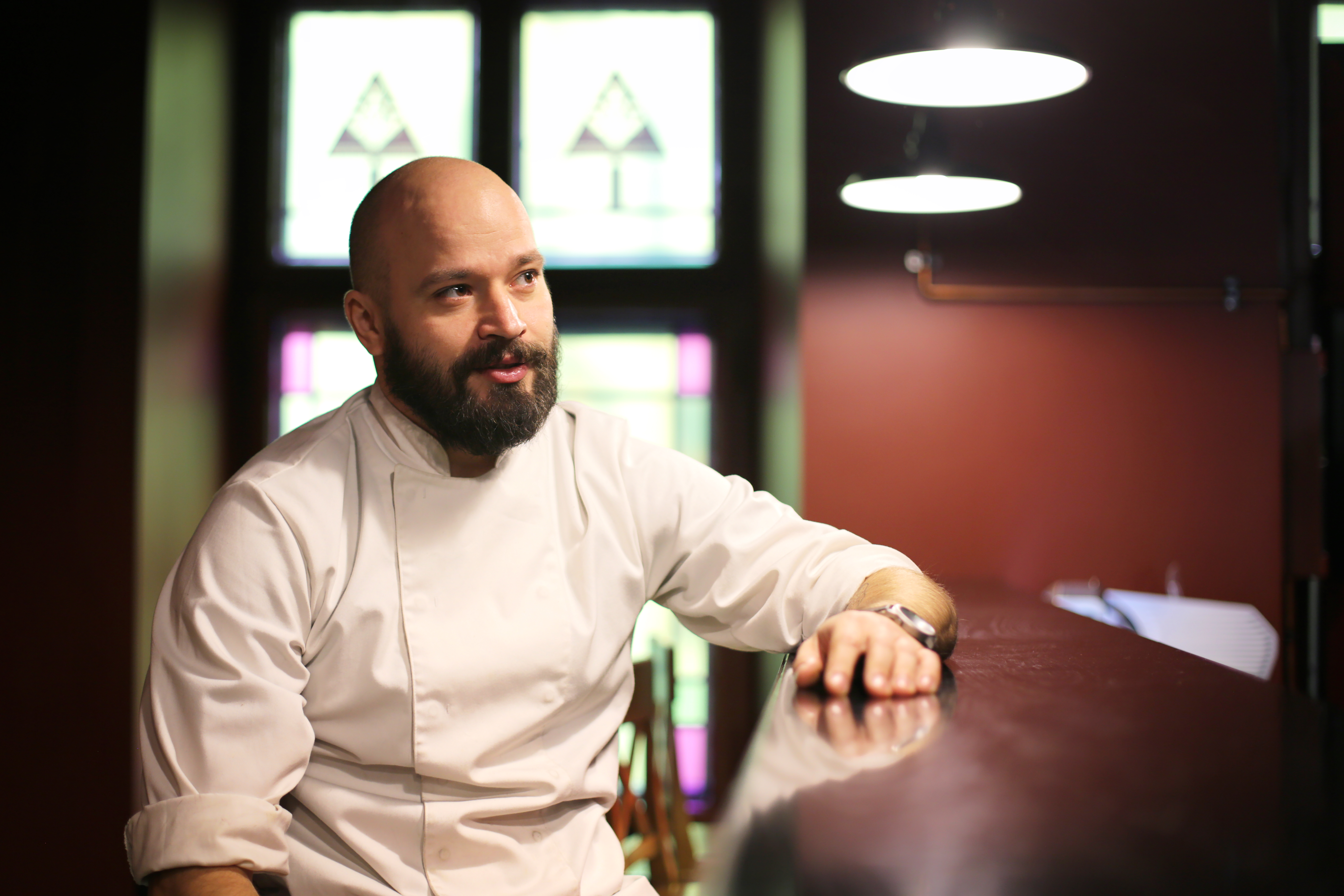 You've launched a new menu in the restaurant...
... yes, but the main duty, I think, is using new techniques in practice, optimization of processes. It has allowed us to launch this new menu.
Our team is working with it more than a week. We're doing good job :)
And how much has the menu changed? What specialties does it have except an ice cream, served in crystal ashtrays?
Well, our ice cream is, so to say, out of competition (laughing). It was the owner's idea. And there's such resonance now :)
If speaking about new dishes in general, besides improving technical constituent, we've got unusual serving. People call this restaurant "Mason". Everything must be secret and unique here. We use crystal ware and smoking gun (a special kitchen appliance that fills a dish with smoke). In fact, it's tasty food of high quality from local products that can be bought in Lviv.
So, are traditions of Lviv cuisine present in the new menu?
Yes and no. Of course, we are keeping to traditions but there's creativity as well. Our first renewed test menu option had traditional dumplings with potato. Later on we changed them into ravioli with potato and added local fois gras. But this dish will appear in the menu soon.
We definitely want to include Lviv cheese cake. We've prepared several types and soon the guests can taste them in the restaurant.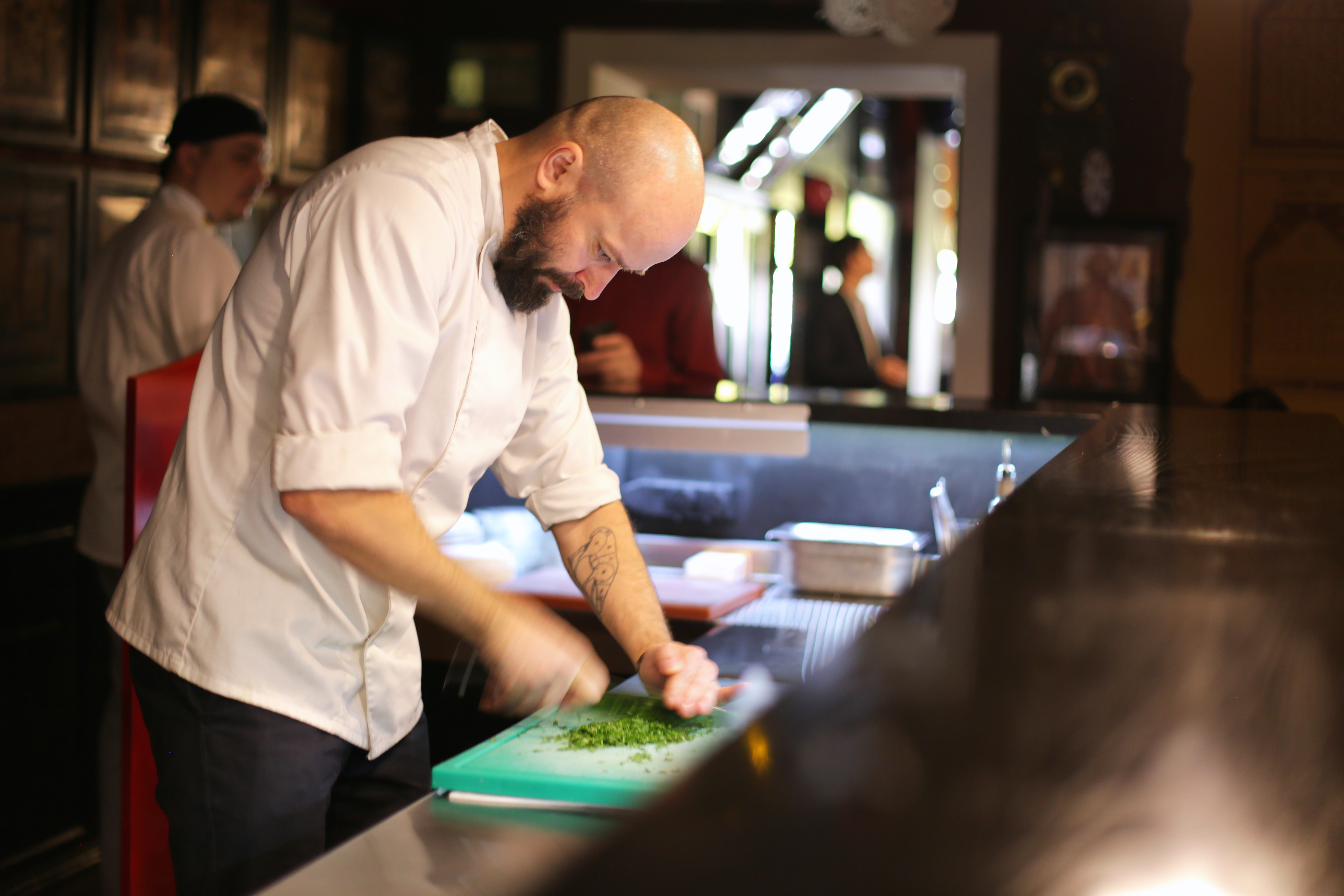 What are your favorite dishes in this menu?
It's a smoked potato salad for me – a simple smoked warm salad with potato and an egg prepared at temperature 62 degrees. It is served in a crystal vase with a cover and when a guest opens a lid smoke is coming out. By the way, it's the most popular salad now.
We are also making experiments with ice cream of our own production. We use partially a production section in the kitchen of Beer Theater "Pravda" because they have an ice cream machine :) We create unusual tastes together with Illya, "Pravda" chef. For example, a smoked ice cream.
Though, in general we've complicated technologies. There are two dishes in the menu preparation which take nearly two days. They are: goose leg and pork belly. The last one is included in a large meat platter. Moreover, we've left a part of key products and dishes from the previous menu for people who love our restaurant to order them again.
How much time did it take you to work out the new menu?
We elaborated the menu very fast. Later we focused on preparing new dishes. We tried out different spices, techniques... After that we established the start up date and here we are :) It took us almost one month and a half.
Actually, how did you decide to come from Moscow to Lviv?
I teach people to cook in Moscow. I open restaurants from time to time but I enjoy teaching more. I like when people are interested and when I see bright eyes eager to learn. And here, in Lviv, I can do it, too. It's a good new experience. Once when I only started my culinary career, I was a cook in Sevastopol. I've got relatives in Ukraine, an aunt in Odesa. It's not strange why I am here.
You enjoy teaching but did you happen to learn something in Lviv?
Oh, by the way, yes! There is one dish in Beer Theater "Pravda" that I always eat (laughing). Bograch. I've written down the recipe. If I open a new restaurant in Moscow, I 'll include it in the menu. It's a fantastic soup! I think there's no other place in Moscow that serves this dish. I didn't know about it before :)
The Most Expensive Galician Restaurant
Lviv, 14/8 Rynok Square (2nd floor), +38 (050) 430 87 83
We are on Facebook