"Pravda" and "Lviv cheese cake and strudel bakery" – "Lviv Hospitality" Winners
!FEST Holding of Emotions restaurants, "Pravda" and "Lviv cheese cake and strudel bakery", received "Lviv Hospitality" award in marketing and quality.
"Lviv cheese cake and strudel bakery" was recognized as the best in the category "Café and Pastry" whereas "Pravda" was awarded in the category "Beer Restaurant".
"Lviv cheese cake and strudel bakery" is a place of tantalizing smell patronized by people who leave with an unforgettable mouthwatering after taste Seven other alike restaurants are operating in Ukraine outside Lviv.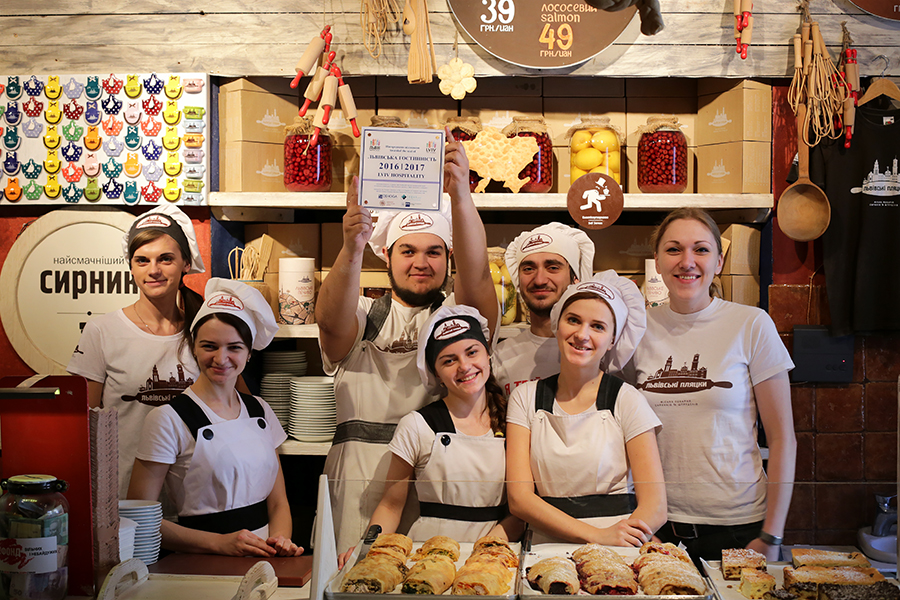 Beer Theatre "Pravda" is a micro brewery in the very heart of Lviv. Its mission is to give people an opportunity to drink real "true" beer. "We believe that our city deserves a unique style that is produced only in Lviv and that will be recognized as products as Champagne or Parma," says "Pravda" management.
"Lviv Hospitality" project includs many organizations: the German Ukrainian Business Partnership project, Lviv Chamber of Commerce and Industry, Lviv Tour Alliance, DEHOGA Brandenburg – Association of Hotel and Restaurant Business from Germany, NewBizNet – Business Support Centre and Lviv City Council. The competition is lasting 6 months. The aim of this project is to improve service quality in Lviv food and beverage industry.
Restaurant performance evaluation started on October 15, 2015 and finished on November 30, 2016. Different service tests were arranged by foreign and Ukrainian trained specialists. They visited the restaurants anonymously, checked and evaluated assortment quality, the level of quality service, the atmosphere, etc.
"Lviv Hospitality" project took place in July 5, 2011 in Ukraine for the first time.