Stories of Success. "HR Policy", or How a Political Specialist can Become an HR Analyst?
Lilya Petrovska could be a political specialist; but being a temporary server in one of the well-known Lviv restaurants "Mazoch-café" has changed her life that summer day. Now she is an HR Analyst in "FEST" Holding of Emotions. Our next story of success is about how a political specialist could become an HR analyst.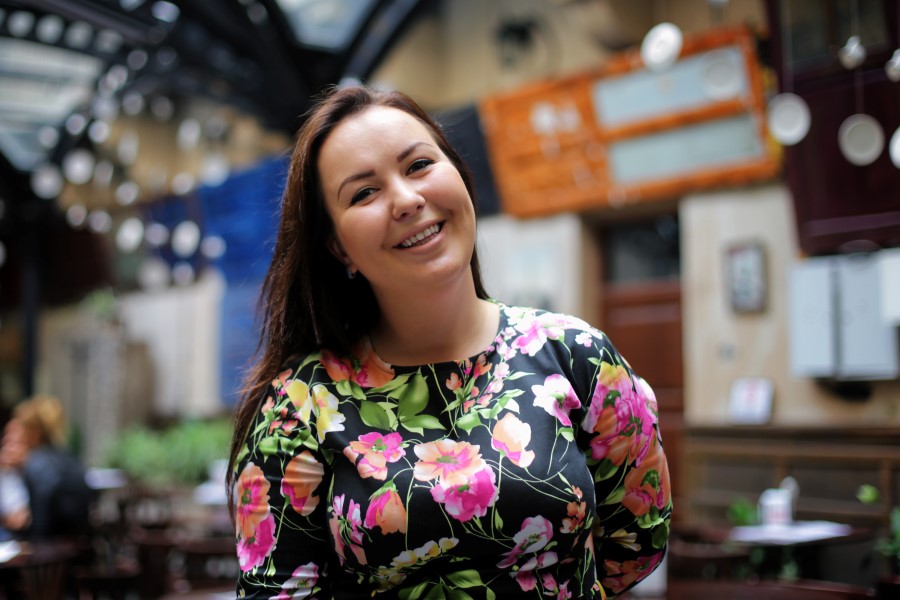 How did you start working in !FEST?
I began my career in the Company after the second course in the university. I was 19. My friend worked in "Mazoch-café"then and told me what a cool place it was, and working there I won't need to ask my parents for money. And I decided that I didn't want to depend on my parents anymore. So I started to work in "Mazoch" as a server.
My mother, being a teacher at Lviv Politechnic University, worried a lot about her daughter working in this "scandalous" restaurant :). In fact, all my relatives negatively reacted at me being a server. Only one uncle supported me… But three months passed and I had to quit as it was difficult to combine study and work. I remember when I was leaving the restaurant I was the best-seller that month!
Nevertheless, I returned in "Mazoch-café" in a few months!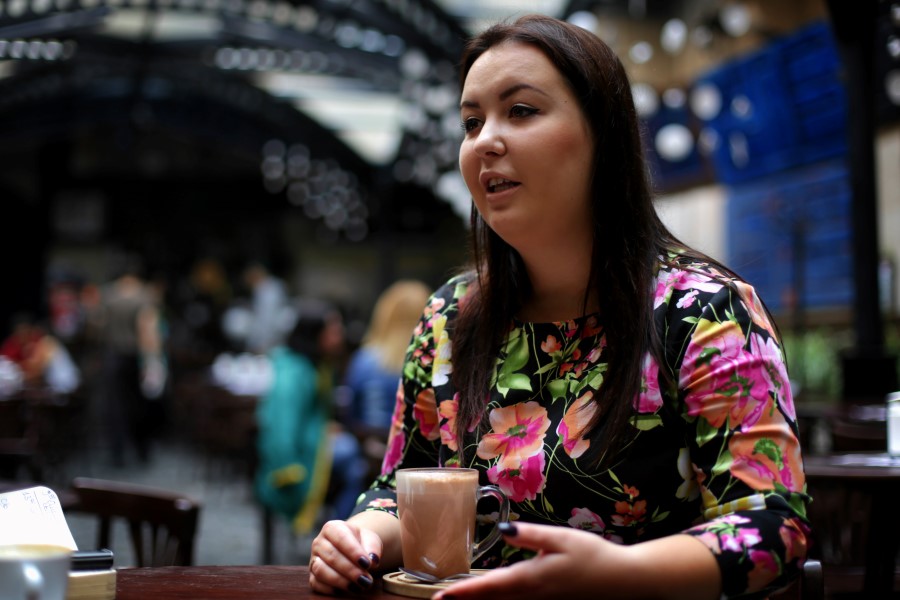 Working as a server in this restaurant is unusual and not simple. Tell us about it please.
It was my first job in "Mazoch". It's very emotional with extremely close contact with people. You should learn to understand the following things: the guest wants to be whipped, his reaction afterwards and how to speak with couples. Ladies here must know here how to seduce men but I don't mean something indecent. They have to be open person to communicate with their behavior, glances, and conversation. The guest should feel at ease, otherwise there will be no contact. During my experience sometimes people were against me rather negatively or even aggressively; but it was interesting for me to keep such conversation when they begged me to whip them (laughing).
Generally, "Mazoch" is a small family. And I do not regret to have left the team but when I always remember those times I feel nostalgic.
After the nine-month job as a server I talked with Lesya Bonk (ex-HR Manager) who told me: "Lilya, it seems it's a good time to be promoted." "Where does Lesya Bonk know when someone can be promoted or not?" I was wondering! :). And I was appointed a Supervisor for 6 months. This work was a transient stage: you are not a server and not an assistant manager yet but you can try something more. Later I was appointed Assistant Manager.
Please also read: Stories of Success. How to make retail business full of emotions?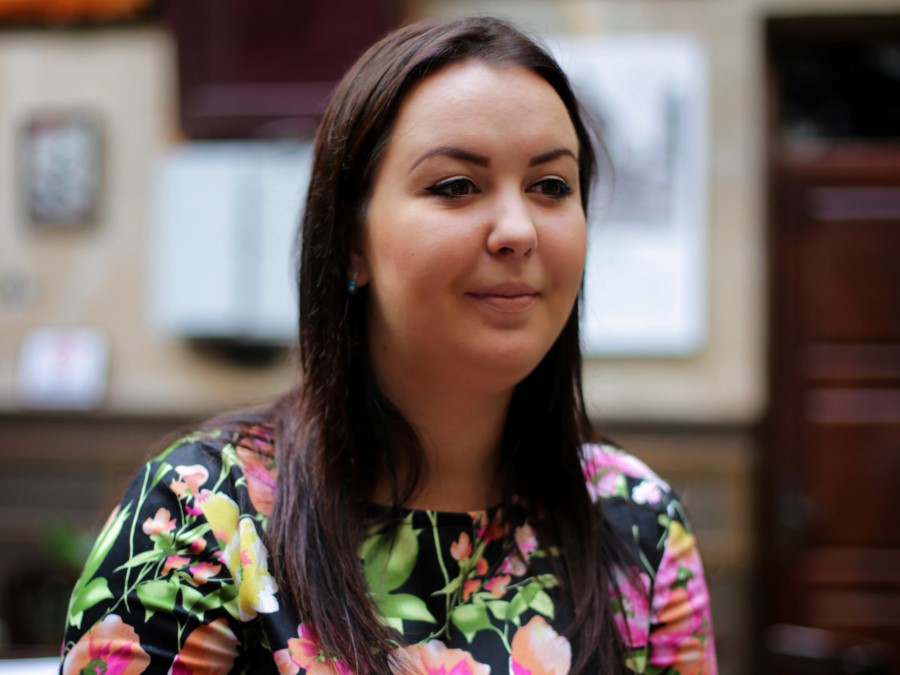 Weren't you afraid?
I took some time to think over and decided to try. Then after having worked for half a year as an assistant there, I make up my mind to leave the Company but HR girls offered me to work in HR Department.
It was January; in fact, it's a rather difficult month. At that moment I realized that I did all my best for "Mazoch-café". I think that Assistant Manager must give the restaurant everything and even more. When you stopped bringing in new ideas and improve it, you've run out of steam. Assistant Manager can't be mechanical: to come, check and order food products. No. She must feel, enjoy working and want to come back the next day.
When I said I would leave the Company… I was offered a job in HR Department. And I thought – why not?! Moreover, after three-year work in "Masoch" where we whipped guests, rolled on their backs, gave them to drink shots from our breasts (laughing), it looked like a calm job in the office. But, in fact, it isn't so!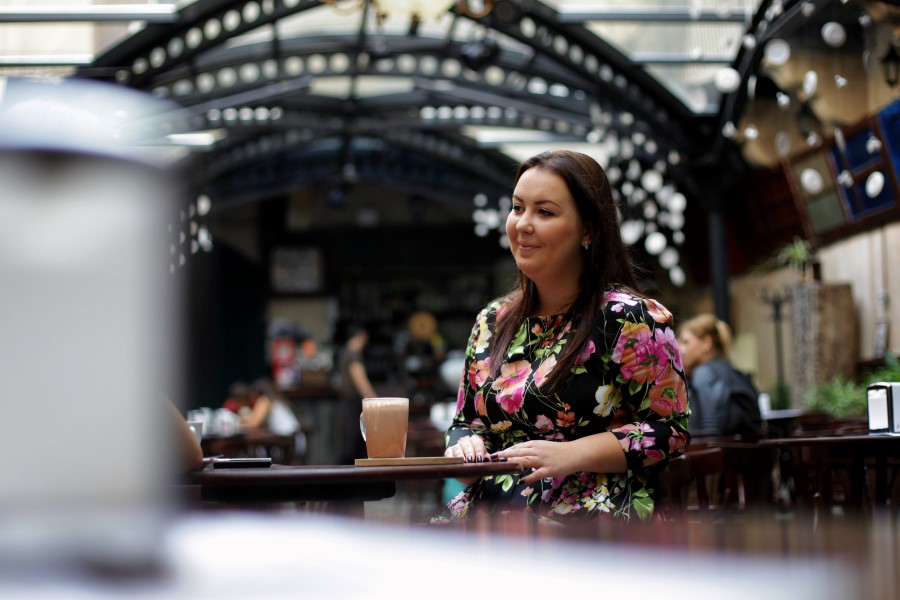 The "Mazoch" team realized that I left only when I didn't appear to work :).
I haven't been working in the restaurant for three years already but I always dropped in once a week.
Actually, I studied to be a political specialist. But I don't know if I'll use this knowledge one day.
So many drastic changes! Have you studied long to be familiar with HR issues?
Working in HR Department is not an office job. I can't call myself a white-collar worker and say I am bored here. It is not just paperwork but, first of all, working with people. It's pleasant communications, new acquaintances.
Having had experience in the restaurant, I perfectly understand what it means when somebody forgets something and don't pay enough attention. For example, when you work on holidays in May and there are constant queues of people from the opening till closing of the restaurant. I'd like to say that having had different positions there from my experience, you realize when and what problems may occur. It's an unappreciated experience. I think it will be useful at my work for a long time. I am very lucky because I always go to work happy as I go home.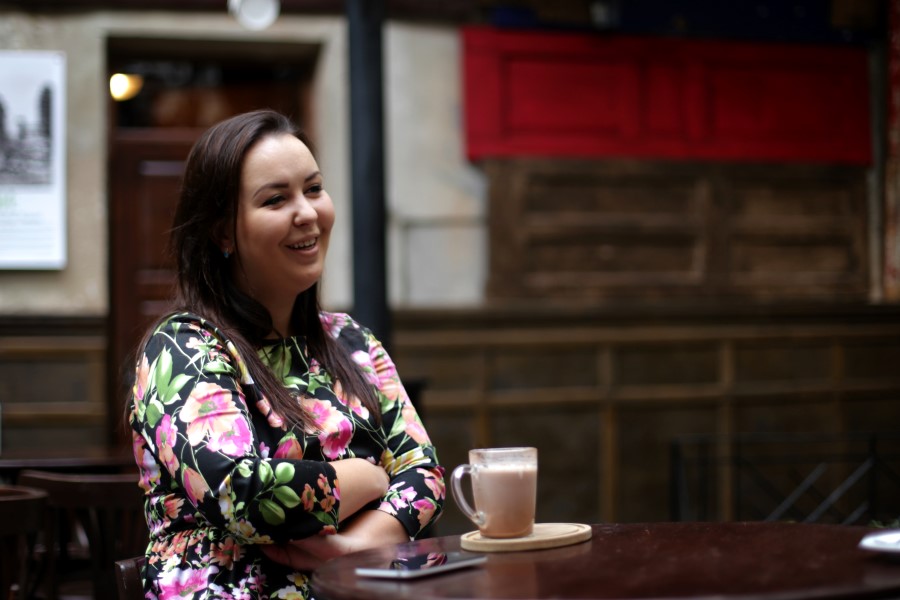 I've got a special feeling for this Company, perhaps because this is my first job.
How did I study? I came to the office and was shown all programs. I knew what is work and labour contract having been an Assistant Manager, but how HR Dept dealt with it I couldn't imagine. I communicated with Vika Antonyuk (HR specialist) every day and passed exams simultaneously. I had a feeling that the department was worried about my exams (laughing). I read lots of legislation literature and it's very important to have a good training manager and a team. It motivates greatly, forces you to make things that seemed impossible before.
HR is very essential because people who work in the Company are the main resources. Dealing with people, teach them, share with emotions are of great signification to me.
How to find proper people and not to be misled by them?
It's very difficult. I think I can't say yet if this person is right and that one is not. I am often said that I notice only people's good things. I believe that it is really so and you can find good features in every person. As HR Analyst I understand that if the candidate hasn't left any impression on me, I need to meet again and look at him in another situation. Once in a while people can do something that you can't expect! Everyone has it internal potential, internal beauty; it's important to notice it. It can be a question of a second, you'll see the bright eyes and realize: this person really wants to be a photographer in "Arsenal" night club; he is a server for a particular restaurant; he needs promotion and this one doesn't want to develop, he is happy being a bartender and it's his job.
Working in HR Dep for a year and a half, I've risen in my estimation internally and professionally.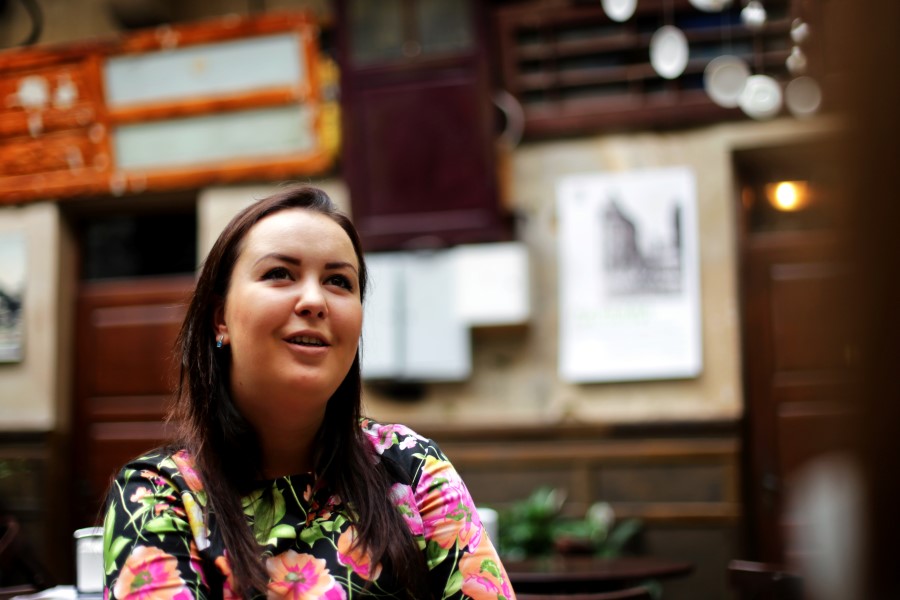 How do you like to rest?
When I have a day-off, I walk a lot and I like to go out of the city very much. This year I've started to visit different Ukrainian cities. Girls organized a "bachelorette party" before my wedding in Ternopil and I wanted it very much.
My friends tell me that I can't say "no" when I'm asked to do something. That's why, I always have things to do (laughing).
I am inspired by my environment. My friends are very important to me. My husband and I have started charitable deeds.
I also enjoy reading "The Little Prince". You perceive it differently at each stage of your life. My husband and I like to roll ourselves in a rug and watch a film :)
Are you a dreamer? What are you dreaming about?
I've been dreaming about a dog in my flat for three years already but my husband doesn't agree. Once a week I tell him I want to have a dog but still no reaction! I don't care about the dog breed. I just wish to have such friend at home!
One more dream is to see Italy. We couldn't go on our honeymoon to Italy this year but I wish my dream come true the coming year. But it won't be a sightseeing journey. I'd like to live in a small Italian village, rent a house, drink Italian wine and eat homemade pasta :)
I've got one more dream, it will come true a bit later – I want to see the sunset on the Ocean.
Please also read: Stories of Success. The Chef at UCU Canteen