Stories of Success. A Physicist-Designer Who Draws Wings
The power of dreams is so big that can even make a physicist create a new type of Ukrainian clothes! This story of success is about design, dreams and self-development. Mykhailo Hirnyak, a Designer in !FEST Holding of Emotions, told us about inspiration and how a job can become a very comfortable place.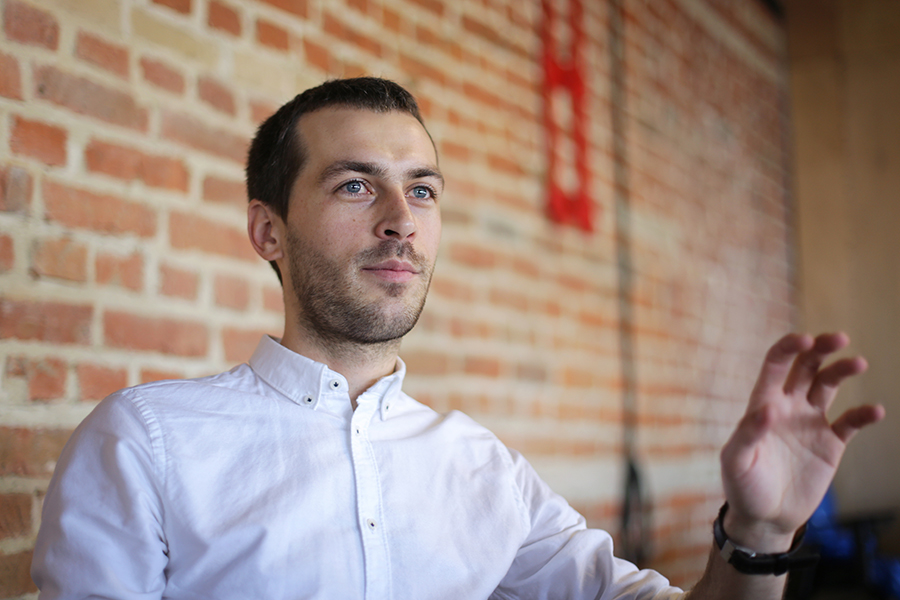 How did you begin to work in !FEST?
!FESTis my third job. My first one was in a copy center when I was a student in Ivan Franko National University of Physical and Biomedical Electronics department and after the fourth course I wanted to work somewhere during summer time... It was the time when I became interested in design. Having worked half a year, I left this job and finished writing my diploma paper on "Electrophoresis of Low Molecular Substances" that was closely connected with many experiments.
Closer to defending my qualification paper I started to look for another job and found in an advertising agency where I met Olya Panchyshyn who is a Production Manager in !FEST now. She began to work in Holding of Emotions several months before and invited me… This is how my new career started. Three years has passed on October 3rd since then. I remember this date well because my cousin was born that day.
Physical and biomedical electronics and design – what's in common?
I'm quite often asked this question, mainly at various job interviews. It's essential to imagine in physics. For example, when speaking about the Boyle–Mariotte law of ideal gases, constant pressure and other notions, it's impossible to understand and learn without modeling a specific process in your head.
Of course, design is totally different. But imagination is important; here you must invent, build a general picture, be able to compare. Physics is defined by laws and it's considerably abstract here. There is no exact evaluation criterion – different tastes, different styles; everyone has his own individual taste.
Please also read: Stories of Success. An Assistant Manager-Dreamer from Theatre-Brewery
Design in such company as !FEST is a very broad concept. What are your duties?
When I say that I am a Designer, people often think that it is connected with interior design. But basically I am a Graphic Designer.
Looking through a column of "Stories of Success" on the Company's website and reading about people with who you've had a conversation before me, I noticed that they had somehow simpler career ladder: at first, a shop-assistant of souvenirs or a server, then an assistant manager, etc. And I just began working in Art Department! (smiling) But we have our own particular thing: the main parameter is probably the scale of a project.
When I came here, my first task was to make a design for Lviv coffee tube container. I've never done anything like that before. I succeeded and became much more self-confident. Moreover, I felt freedom here after the advertising agency came and just inopportunely told me to do something and as a result, I created some strange things.
Art Department has helped me a lot including Grycia Erde, our Art Director. When you've got a feeling that you are doing well is one thing; but when you are supported and taught something new is very important. I've received quite lots of experience here.
And about success: I'd like to mention that when you think that you've succeeded, it means you've reached the limits. It doesn't allow you to move forward. All kinds of professions are constant development. Al the more, design is a sphere where views change drastically with each period of time.
Later on, after tube containers and numerous small projects I started working on different festivals: Holiday of Virmenska Street, LvivKlezFest, Leopolis Grand Prix. These were much "bigger stories" every time, thus it was my constant promotion. You move away from polygraphy step by step and expand your active sphere.
Next was one more project - "Galician Cuisine" (a book about Galician recipes from well-known Ukrainians) and now I've transformed into a fashion designer because I started to deal with a project "Aviatsiya Halychyny" (fashion startup that was begun as a project dedicated to aviation of the Western Ukraine. Clothes for those who feel wings on their back). It's my biggest project for the time being!
Tell us about this project in details. Did you have to do additional study? Because clothing is not advertisement, not a logotype nor restaurant style promotion …
The most difficult thing was to find a feeling – the feeling of the project. You draw either a chevron or some image, everything is connected with graphics but additionally you should understand and feel what to draw. You should have a clear understanding about fabric because it's certain texture and take into account which detail can emphasize better some image. It's good that we work together with a well-known fashion designer like Ulyana Barabash who is an expert in it.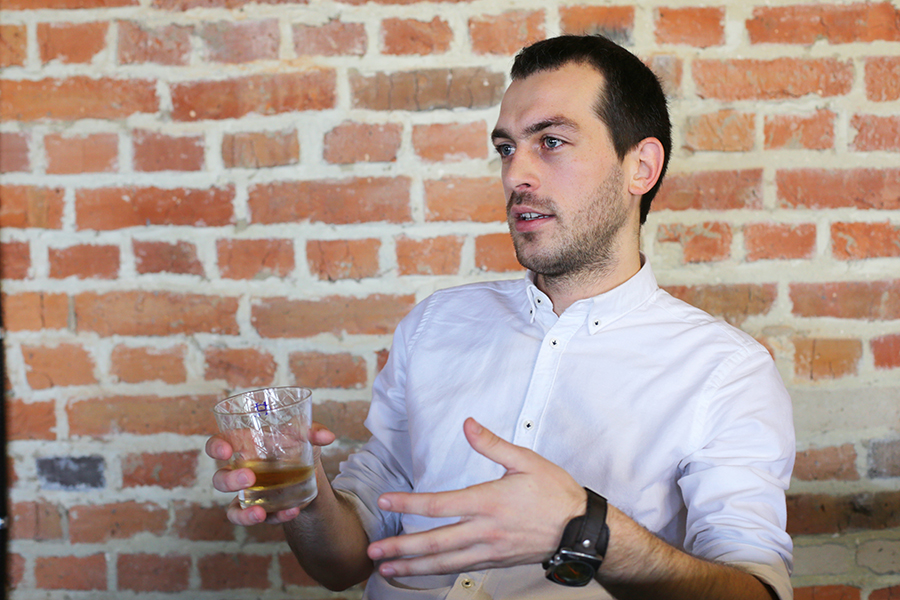 Have you imagined yourself as a fashion designer before?
I can't admit that it has surprised me :). It happened quickly.
How did I actually appear in design? You know, it seems I once wanted to be an architect (smiling). Architecture, graphic design, clothing design is different things but, in the end, they lead to a visual dialogue.
And do you miss physics?
Of course, not :) When I was a university student I was keen on graphics. I didn't attend any courses and I learnt everything on my own or someone taught me at work.
Truly, it wasn't difficult to learn graphics for me; I easily deal with processes and programs.
Please also read: Stories of Success. "HR Policy", or How a Political Specialist can Become an HR Analyst?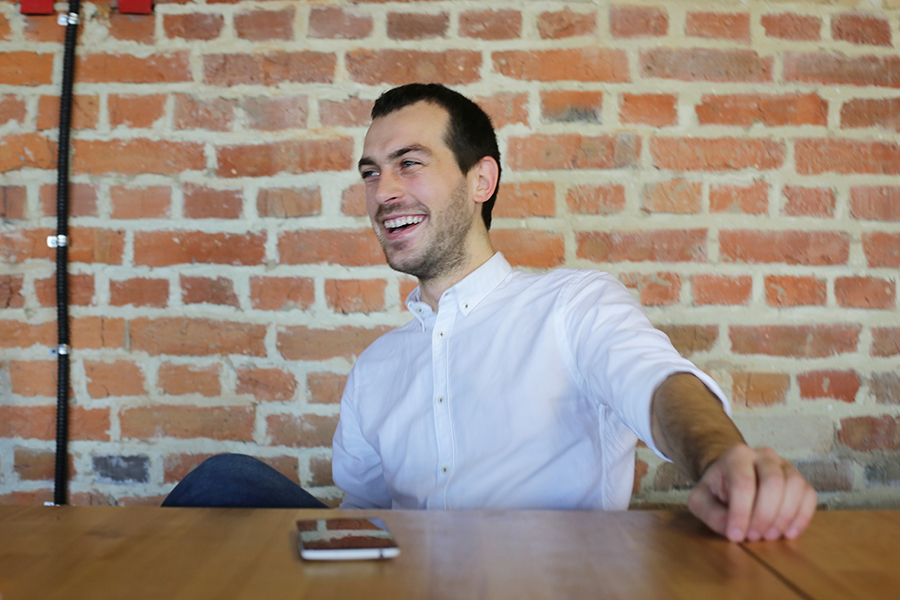 So, Art Department is a place of creative freedom? Aren't you tied with limits of a customer's traditional vision as in the advertising agency?
Absolutely! We've got interesting projects and we can offer our ideas. You get best results when you like a person you work with or when you do a project you are interested in. I can hardly imagine myself somewhere else; it's such area of comfort, a part of life :)
I've never had such feeling when I didn't want to come to work! My job brings me satisfaction. I didn't experience it even when I worked in the advertising agency with the hope for starting some project for a customer with pleasure :)
Which project are you proud of?
I don't even know!.. If looking at the last ones, I would improve them and it's quite normal because you should always develop. And I always believe that best projects are in the future!
Being a designer is popular now. Many people consider this profession really difficult – "you sit and draw". Aren't you troubled about this stereotype?
Oh, you did notice it well. People think we sit, entertain and draw something a bit (smiling). Actually, it's a very fussy process. Not every person can do it…
Have you ever tried to make by your own hands those things that you do by means of technologies? I mean painting.
It may sound strange now but I think I can't draw :) I haven't clearly synchronized my brain and hands to do it well yet. Perhaps, I need some "driver" (smiling).
Tell us about your hobbies and rest. What do you enjoy outside your job?
If you speak about love, of course, I love my parents. As you see, I love white shirts :) I love my friends and travelling and do crazy things. I love bright socks; I love texture. I love breathing :) It's so great to fall somewhere on the grass in the Carpathians and breathe deeply. It's also cool when somebody breathes near you!
I also think a lot about design outside work. Perhaps, it's the biggest hobby of my life.
I've already mentioned here travelling, I love it. In every journey you don't just open the world for yourself but open yourself. You enter into another environment, another climate and face other mechanisms… I researched in my journeys that I prefer nature to architecture. Though, as I said I wanted to be an architect! But when you look on the hill over the ocean, you realize: there is some structure, relief; there is a certain shape that was ideally created by nature than by people. I would also like to visit the Great Barrier Reef (the world's largest coral reef system located in the Coral Sea not far from Australia).
Do you like active holidays?
Yes!
Which exactly?
(Pause) ...ye-e-e-s. (smiling)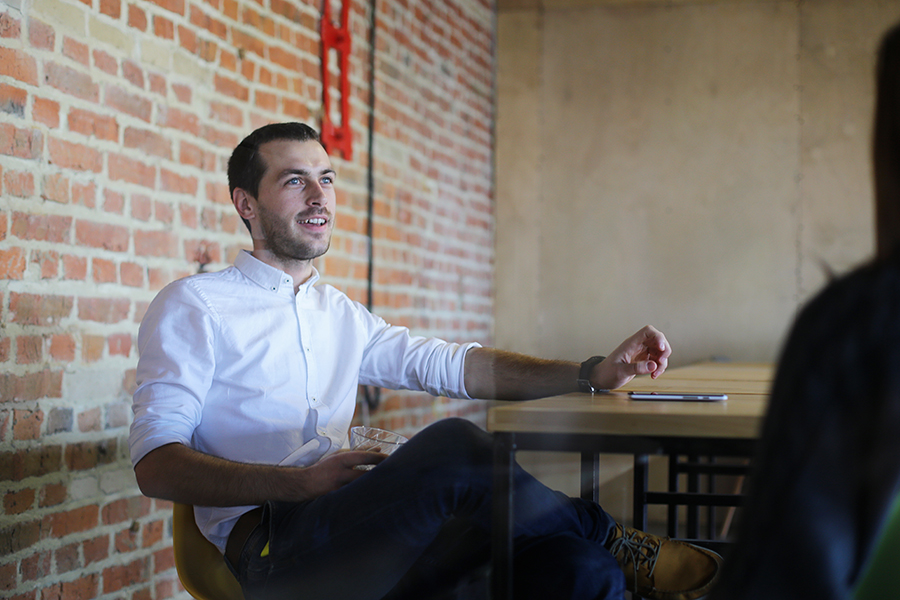 Books, music, films – what has brought you the brightest emotions recently?
How funny it might be, I can't remember quotations from the books but I can remember pages :) I quite often don't remember the film plot if I like it but I remember the title very well but don't know any actors' names (smiling). The same happens with books. By the way, in October I read "The Great Gatsby" by F. Fitzgerald and wanted to compare it with the film. I found differences. I read "Fire and Knives" (Вогнепальні і ножові") by Zhadan. It's poetry; I really enjoyed it. I read "Notes of Ukrainian Crazy Person" by Lina Kostenko ("Записки українського самашедшого"). I would really like to read Walt Disney. My friend has just bought a book "The Power of Dreams". My sister has read it and after her review I want to read it very much, too. This book tells how he built and created everything, how he developed his ideas, how his dreams came true and about his family relationships.
And what are you dreaming about?
Perhaps, all my dreams are egoistic as, for example, the one that I've already mentioned - going diving at the Great Barrier Reef :) I also dream about visiting a nice beach party with good people, interesting conversations, pleasant music, stars, sea breeze or better ocean breeze!
Before our interview when I was getting to work I thought who I would become if not a designer. I remember when I started working in !FEST I was given to fill in an application form and there was a question: "What didn't you want to do?" My answer was firm: "I wouldn't sell fish and meat" (smiling). If I lived in Australia, I would feed kangaroos or be a surfing instructor. If I lived in Canada but, sure, not near the sea because there's fish, I would deal with processing wood :)
Though, it's all entertaining. There are much deeper things but it's personal :) If one starts sharing, they lose their beauty.
Please also read: Stories of Success. How to Run a Restaurant when 25 years old?